Why the profits of Australia's classic surf retailers are drying up
Surf shops are struggling to make a profit in the face of a volatile retail sector. Photo: AAP
Australian iconic brands Rip Curl, Quiksilver, Ozmosis and Billabong are struggling to turn weighty profits ahead of summer as consumers continue to turn their back on once trendy branded T-shirts and surfy swimwear.
The wildly volatile surf retail sector has been rocked by brand collapses and acquisitions in recent years, with Rip Curl being valued at anything between "$80 million and $400 million" depending on who you ask, according to retail expert Brian Walker.
Rip Curl Group's full-year profits this year took a dramatic dive to $9.8 million, halving its encouraging 2017 profit of $18.4 million.
It is a huge step backwards for the company, which this time last year had reported a doubling in profits.
The company attributed the massive drop in profits in part to its de-valuation of subsidiary retail chain Ozmosis, The Australian reported.
But Rip Curl is not the only surf retailer to show signs of struggle.
Billabong was almost entirely wiped out from the market, before being bought by the US owners of Australian brand Quiksilver for $198 million in early 2018.
The surfwear icon was emblematic of the boom-and-bust cycle that has washed over the industry in recent years. At its 2012 crisis point Billabong's share price crashed, 150 stores closed and 400 people lost their jobs.
Billabong saw losses of $300 million in 2012, followed by a massive $860 million loss in 2013. While it managed to turn a modest profit in 2015, two years later it had hit rock bottom with an additional $23 million in losses.
Quiksilver had experienced problems of its own, having emerged from bankruptcy in 2016.
Retail expert Amanda Stevens said she understood that Rip Curl was one of the very few (if not the only) remaining surf company that continues to turn a profit.
The industry's now seemingly grim trajectory is a long way from its colourful origins, where most firms were formed by keen surfers who found they could shape a few boards or sew pairs of board shorts, and make money from it.
One of the most iconic, Rip Curl, was started by Brian Singer and Doug Warbrick in the Victorian seaside town of Torquay about 1970.
It rapidly expanded to become a multinational with operations in Europe, North and South America and South Africa.
Another high flyer was Billabong, which was started on the Gold Coast by Gordon Merchant. The company eventually floated on the stock exchange and went on an expansion spree, buying US and UK companies even while the GFC raged around it.
Quiksilver was another firm spawned in Torquay, now under the control of private US group Boardriders Inc.
Why surf retail is struggling in Australia
The Retail Doctor's Brian Walker said cultural changes have contributed to the collapse of Australia's surf shop icons.
"The industry is in contraction at the moment with store numbers being cut," he told The New Daily.
They went from niche to commodity.

"In the '80s and '90s you couldn't do anything wrong. But a new generation came along who didn't think it was cool to wear what dad thought was cool.
"The brands had a lot of cache and still do, but they were too aggressive and ambitious in their expansion."
Mr Walker said the emergence of online retailers selling bathers and beachwear took some market share, however Ms Stevens said this was not necessarily the case given the downfall of ASX-listed online surf retailer SurfStitch.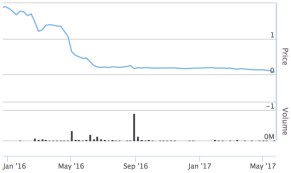 Online surf retailer SurfStitch's share price has fallen dramatically. Photo: ASX
It made waves among sharemarket investors in 2014, and was talked up as "one of the leading pure-play online action sports retailers globally".
But it all washed up by mid-2017, SurfStitch went into voluntary administration.
"I think many surf brands are struggling to maintain relevance in an increasingly competitive market," Ms Stevens said.
The major surf retailers, like Billabong and Quiksilver, are all bleeding money.

"Rip Curl is doing better than the others and I think that's because they've stuck to a core 'surf brand' strategy and focused on their aspiring and hardcore surfer market.
"Their competitors have diluted their brand by going into fashion lines and activewear to appeal to a broader market and have lost their way."
Shopping expert Jo Munro said the new breed of young shoppers are favouring electronics over labels.
"Much of the younger generation's fashion cachet is centred around the latest and greatest device or headset," she said.
"With the range of sportswear growing ever more accessible in price and range, the perceived 'pricey' beachwear is now less popular in department stores."
Mr Walker said that despite the highly volatile nature of the industry, there was still value in surf clothing.
He estimates the surfwear segment is worth about $5 billion in the Australian market.
"The companies are now trying to go back to their roots and building relationships in the surf community with sponsorships and event funding."