How Apple became world's first trillion-dollar company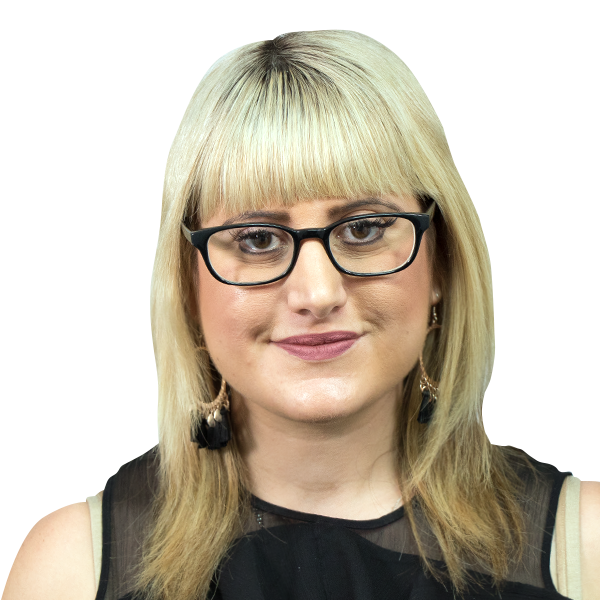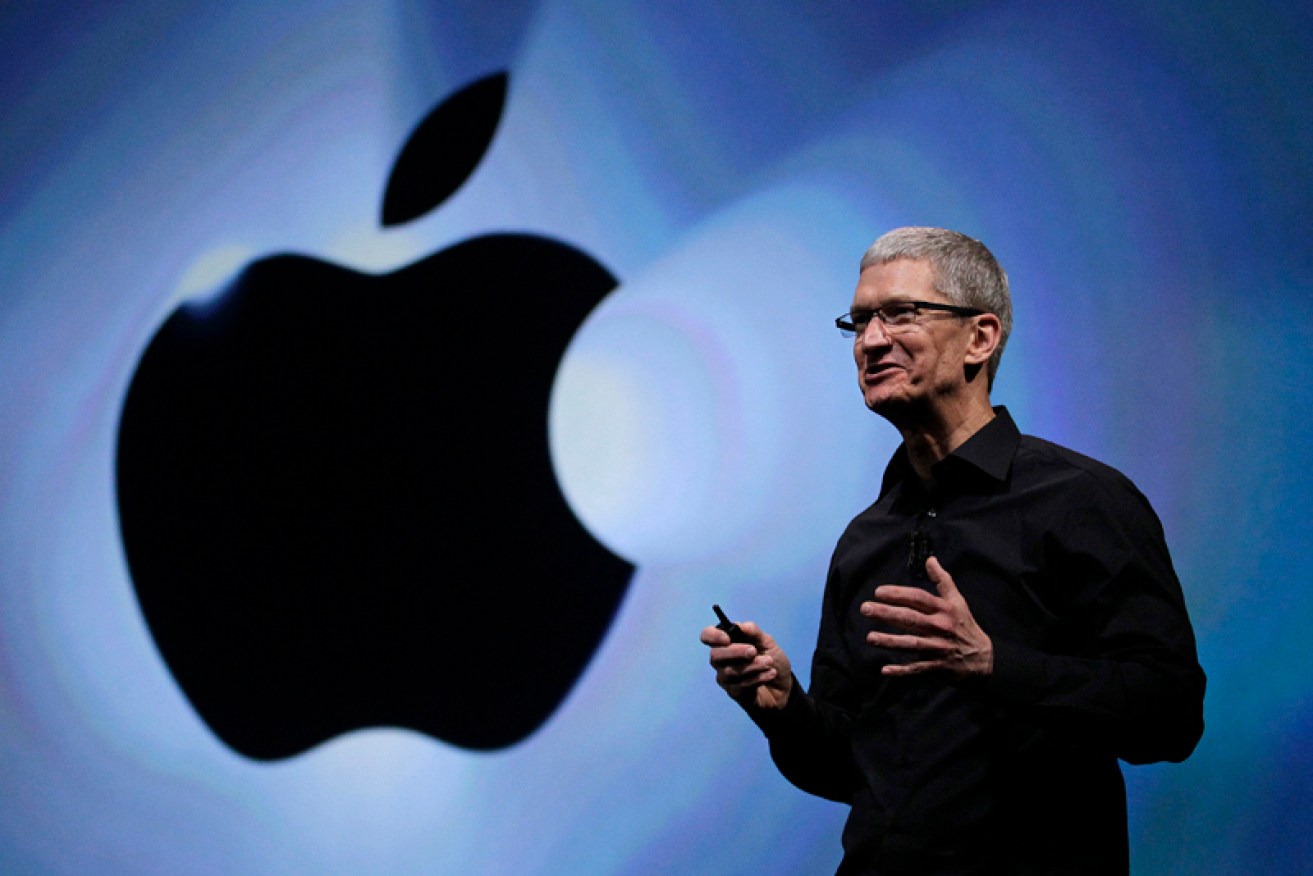 Apple became the first publicly traded company to be valued at one trillion dollars. Photo: Getty
Apple has made history by becoming the first ever company to reach a market valuation of one trillion dollars.
The tech giant announced on Wednesday its profit had jumped more than 30 per cent to $US11.5 billion ($15.5 billion) in the last quarter, despite selling fewer iPhones than analysts projected.
Shortly after the news, shares were boosted during after-hours trading, putting the Apple over the history-making, trillion-dollar market value.
Apple's revenue in the fiscal third quarter surged 17 per cent to $US53.3 billion ($72 billion) from the same period a year earlier on the back of sales of pricier iPhones and wearable devices.
"We're thrilled to report Apple's best June quarter ever, and our fourth consecutive quarter of double-digit revenue growth," chief executive Tim Cook said in the earnings release.
How Apple is winning consumers
University of New South Wales marketing senior lecturer Gary Gregory told The New Daily consumers were continuously drawn to purchasing Apple products by its clever advertising.
"Apple has integrated into people's lives with its advertising by showing people how its products can fit into their lifestyles, unlike its competitors that advertise its product features," Mr Gregory said.
He said Apple had won the tech market with its ability to control and channel distribution.
"The company's control over its distribution is incredible because it's very hard to be an authorised seller, and its pricing is consistent around the world."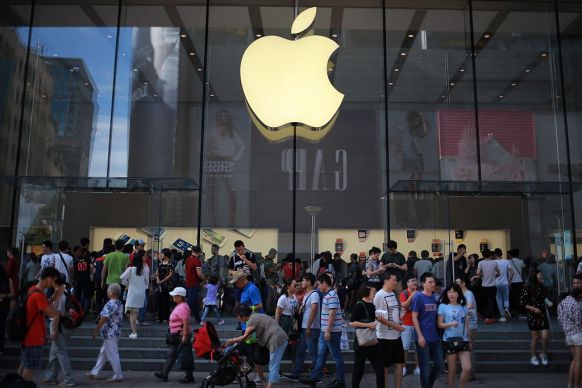 People queue outside China's Nanjing Road Apple Store to buy products. Photo: Getty
Mr Gregory said Apple had a strong history of winning consumers.
"There's no other technology store out there that has crowds of people waiting in line for more than six hours for its latest products or its Genius Bar for troubleshooting."
Swinburne University of Technology senior lecturer in media Dr Belinda Barnet said Apple had also won consumers with its strong data policies.
"Privacy is the core of Apple's business model and they charge a lot for data storage, which shows how seriously they take consumer privacy compared to other companies," Dr Barnet told The New Daily.
"Ironically, when Apple started out they were an upstart company, but they have now dominated the market with others trying to keep up."
Melbourne University digital and mobile journalism lecturer Corinne Podger said Apple's products were distinctively "sexier" than its competitors.
"They look and feel good, and the user experience of Apple products has always attracted consumers," Ms Podger said.
Apple v Amazon
Last month, 9to5mac noted the increasingly close race between Apple and Amazon to become the first trillion-dollar company.
Analysts drew on a chart by Reuters, (below) comparing the trajectories of the two stocks, showing that Amazon was gaining ground.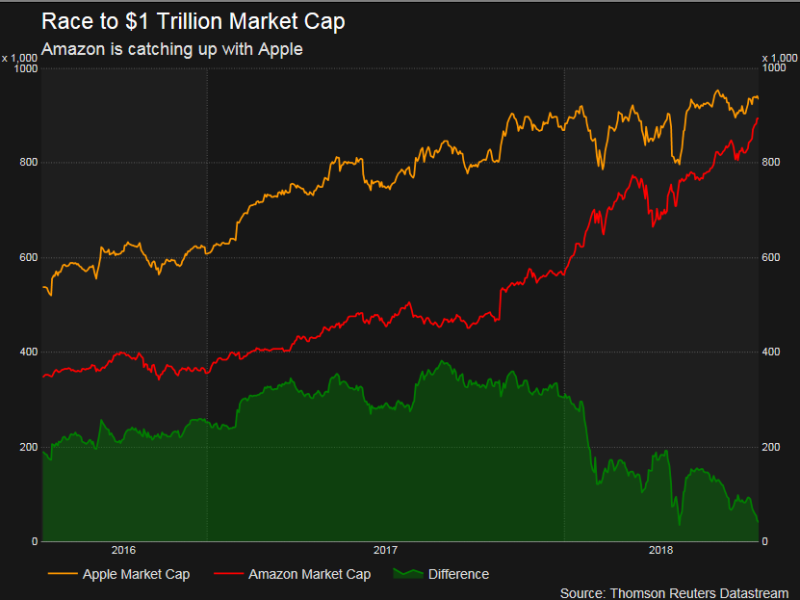 A chart comparing the trajectories of Apple and Amazon stocks. Photo: Reuters
Amazon received a boost after it announced that it had sold more than $US100 million ($135 million) worth of products on Prime Day, and its stock has climbed by 57 per cent this year alone.
According to 9to5mac, an investor who bought 100 shares for $US1800 ($2438) during the 1997 IPO would be sitting on more than US$2 million ($2.7 million) today.
But Monash University deputy head of economics Dr Gennadi Kazakevitch told The New Daily he didn't agree there was a race between Apple and Amazon for the trillion-dollar valuation.
"Apple's latest figures are simply a milestone, and shareholders would be silly to use this information to invest their money because both companies are not competitors, as their products are entirely different," Dr Kazakevitch said.
"Don't get me wrong though – these are remarkable figures for Apple in spite of losing Steve Jobs. And in its new generation, I would say they're coping pretty well."
Apple's key moments
While hanging out together as part of the Homebrew Computer Club in 1977, friends Steve Jobs and Steve Wozniak formed Apple from Jobs' garage.
Shortly after, Jobs and Wozniak released the Apple I computer. It sold for $US666.66 ($899), and with only 200 computers made, it's a collectors item today.
Jobs then unveiled its first Apple Macintosh computer in 1984, with its nne-inch screen and $US2500 ($3385) price tag.
Then in 1999, Apple released its iMac computer, marketing it as 'iCandy'.
Two years later, Apple released its first iPod, followed by iTunes.
The company then unveiled its revolutionary iPhone in 2007, and iPad in 2010.
In 2011, Jobs passed away after four years living with pancreatic cancer.
Shortly after, Cook replaced Jobs as chief executive, and announced the Apple Watch in 2016.
In 2017, Cook announced the release of the iPhone 8, iPhone 8 Plus and iPhone X, featuring retina high-definition displays, an A11 Bionic chip and wireless charging.