The dark truth behind your shiny new iPhone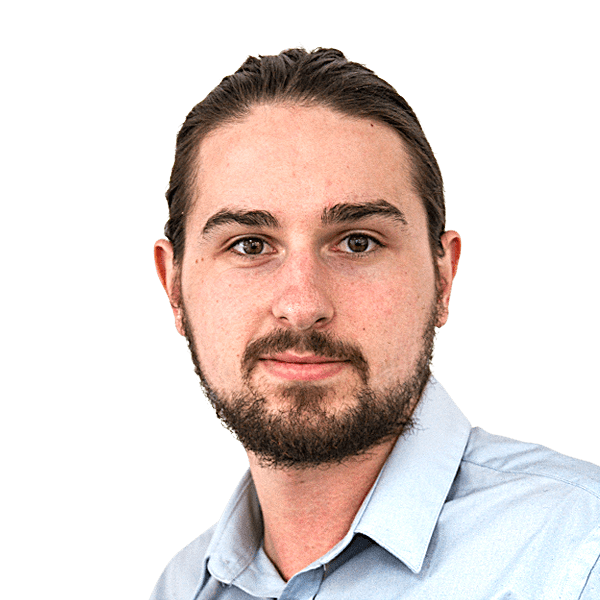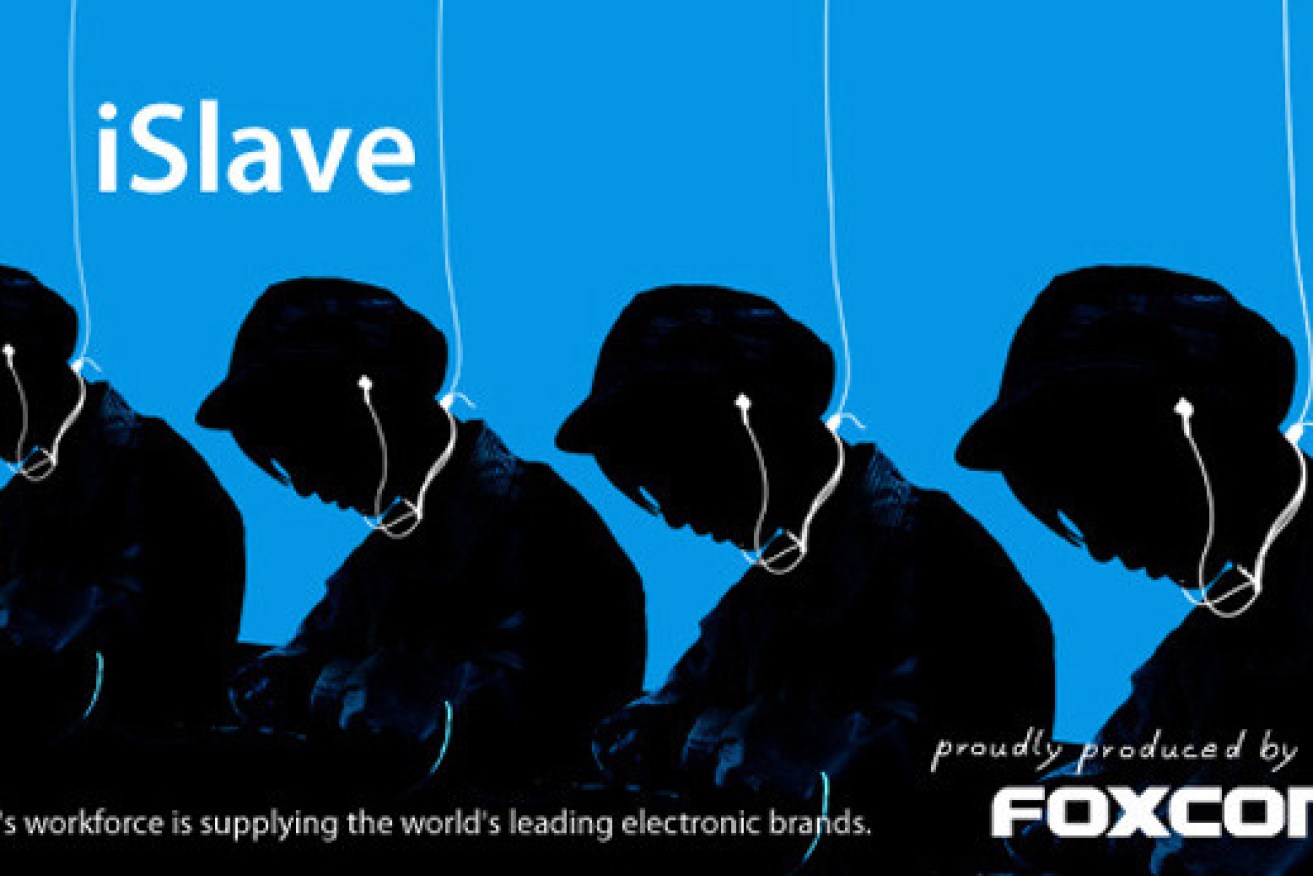 The reality of Apple's famous iPhone is a dark one. Photo: Twitter/lalieNicolas
Apple has touted its eye-catching new iPhone X as "the future of the smartphone". But the stark reality behind its assembly is anything but revolutionary.
The proof is on the back of every iPhone: "Designed by Apple in California. Assembled in China".
Since the first iPhone went on sale a decade ago, the iconic product's production has been heavily scrutinised and critiqued, with claims over the past decade of factory-worker suicide, extreme working conditions, use of deadly chemicals and child-labour abuses.
"There's no excuse for Apple's first bloody decade of the iPhone. And even less so for its next 10 years," said Jack Linchuan Qiu, of the Chinese University of Hong's School of Journalism and Communication.
Writing for The Conversation in its Democracy Futures series – a joint global initiative with the Sydney Democracy Network – Professor Qiu said Apple's shiny new iPhones would be impossible without the toiling of millions on Chinese assembly lines.
"I look back at the first 10 years of the iPhone and see a bloody decade of labour abuse, especially in Chinese factories such as those run by Foxconn, the world's largest electronics manufacturer," Professor Qiu said.
"Foxconn makes most of its money from assembling iPhones, iPads, iMacs and iPods. Its notorious 'military management' was blamed for causing a string of 17 worker suicides in 2010.
"The company tried so hard to stop the suicides, not by digging out the roots of exploitation, but by erecting 'anti-jumping nets' atop its buildings," Professor Qiu wrote. "Never before has a modern factory hidden behind such suicide-prevention netting which last appeared on transatlantic slave ships centuries ago."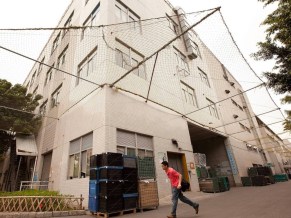 The suicide net surround Foxconn's Shenzhen factory. Photo: Twitter/Ogmin
Pay rises below living wage
There was an outcry when it was revealed that Foxconn's 400,000 iPhone assembly workers were making only 900 yuan ($A171) a month. The company would later raise their pay to 2000 yuan ($A382) for a month's work, but this was calculated to still be well below a liveable wage.
The Students and Scholars Against Corporate Misbehaviour (SACOM) found for these Shenzhen workers to make a liveable wage – 3402 yuan ($A650) a month – the average employee would be required to work 80-90 hours of overtime each month.
The legal overtime limit under Chinese law is 36 hours.
In 2012, Apple promised to work with partner Foxconn to fix wage violations and reduce overtime to 49 hours a week.
However, in May 2015 the overtime hours for some workers reached 160 hours.
Professor Qiu said he does not rate Apple's claims that it is training employees to understand their basic rights.
"Considering that Apple has recently backed out from the Fair Labor Association, a third-party auditor of corporate social responsibility (CSR), I'm sceptical," he wrote.
"The FLA is not exactly 'the highest standard' in labour-related auditing to begin with. But Apple no longer even bothers to ask it to assess supplier working conditions.
"Despite this regressive move, Apple declared in its annual CSR report that it 'continue(s) to partner with independent third-party auditors'."
Blood, sweat and fear
Labour conditions of Apple's supply chain in China have also been a major concern for SACOM, which found widespread violations at Apple's largest display screen supplier in Biel Huizhou, China.
It discovered 12 labour-rights violations in an undercover investigation inside the Biel Crystal plant, including endless bleeding on production lines, frequent workplace injury, and "military-style" management and discipline.
The findings also state workers were frequently fined and had wages deducted for minor issues such as not being able to finish food or not dining in assigned canteen.
Meanwhile, one factory worker teamed up with American director Heather White to expose the human cost of your favourite smartphones in the documentary Complicit.
Yi Yeting, 33, was diagnosed with leukaemia as a 24-year-old after working at the Foxconn factory in Guangzhou, China. He claims he was poisoned by the toxic chemical, benzene, used in the manufacturing of iPhones.
Complicit details the horrific reality of the world's largest electronics supplier factory floors, neighbourhoods and hospitals surrounding the Guangzhou and Shenzhen factories.
Watch the Complicit trailer below:
Apple banned the use of the hazardous chemical from its final assembly of the iPhone and iPad in 2014, but is still permitted in the early production stages.
Child labour behind smartphone batteries
A 2016 report by human rights organisation Amnesty International found cobalt – which is used in lithium-ion batteries by Apple, Samsung and Sony – was being mined by child labourers in the Democratic Republic of the Congo.
The report documents children as young as seven digging up huayou cobalt, which is sold to battery component manufacturers in China and South Korea to supply the tech giants.
"The glamorous shop displays and marketing of state-of-the-art technologies are a stark contrast to the children carrying bags of rocks, and miners in narrow manmade tunnels risking permanent lung damage," Amnesty International business and human rights researcher Mark Dummett said at the time.
"Millions of people enjoy the benefits of new technologies but rarely ask how they are made. It is high time the big brands took some responsibility for the mining of the raw materials that make their lucrative products."
An Apple Australia spokesperson referred The New Daily to the company's supplier responsibility progress report.