World-first COVID human challenge trial found to be safe for young adults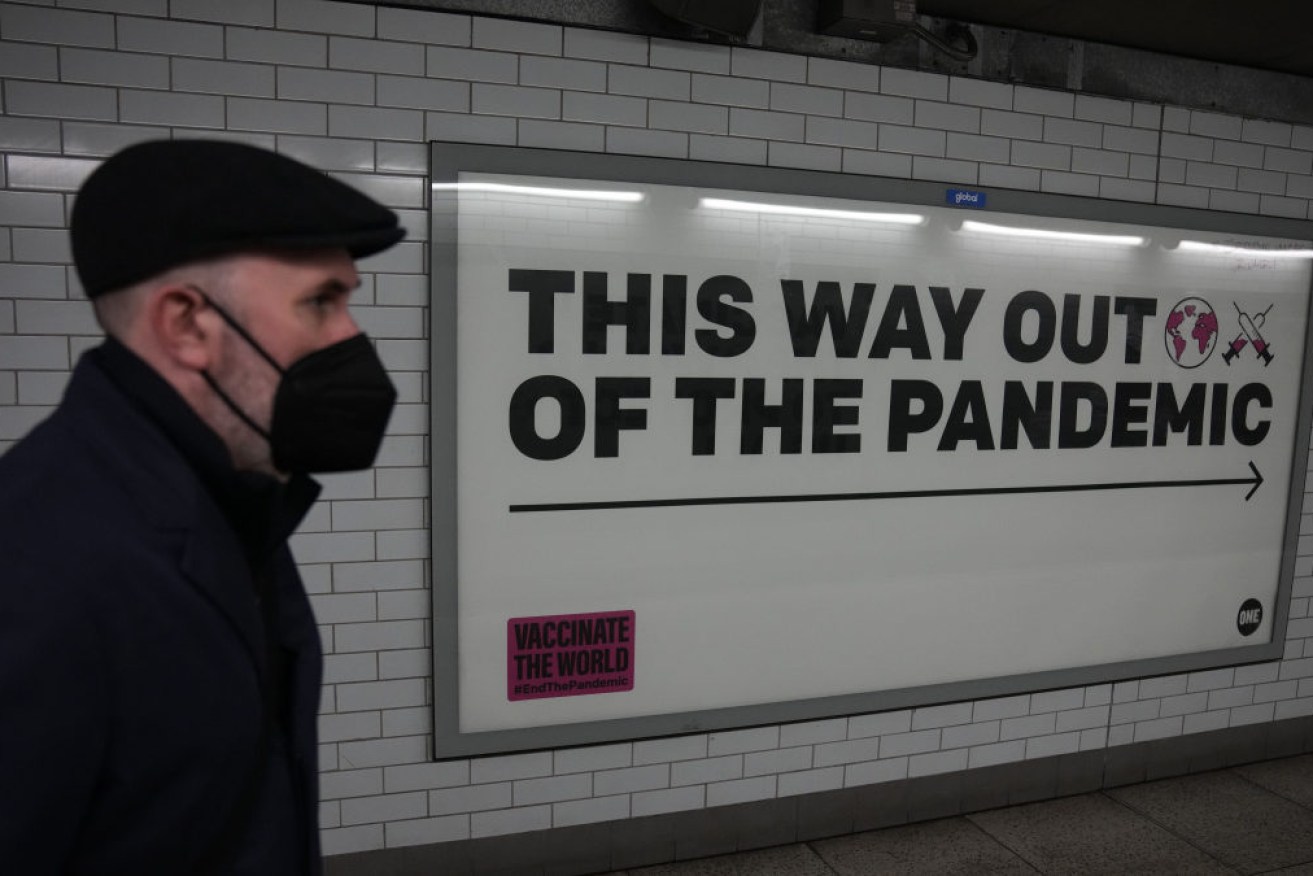 Volunteers have been deliberately exposed to COVID-19 in a trial in Britain. Photo: AP
The world's first "human challenge" trial in which volunteers were deliberately exposed to COVID-19 has been found to be safe for healthy young adults.
Meanwhile, cases have steadied in Europe – and that has prompted authorities to further ease coronavirus restrictions in Germany, Finland, Switzerland, the Czech Republic and Lithuania.
Back in Australia, experts are warning of a dual threat of a fresh Omicron wave and the first major surge of flu cases since the pandemic began.
Another 70 people died of COVID-19 on Tuesday, with 27 of those reported in NSW, 25 from Victoria, 16 in Queensland and one in both South Australia and the Northern Territory.
Another 40,090 virus cases were reported nationwide, with Victoria having 14,553, NSW having 11,807 and Queensland detecting 9630 infections.
There were a further 1723 cases in South Australia, 1133 in the Northern Territory, 666 in Tasmania, 549 in the ACT and 29 in Western Australia.
Here's a wrap of Thursday's coronavirus headlines.
'Human challenge' shows promising results
Pharmaceutical services company Open Orphan is running a project that could lay the groundwork for future studies to test new vaccines and medicines against COVID-19.
The trial is backed by Imperial College London, the UK government's vaccines task force and the clinical company, hVIVO.
Scientists have used human challenge trials for decades to learn more about diseases such as malaria, flu, typhoid and cholera, and to develop treatments and vaccines against them.
Our Chief Scientific Officer & co-investigator on the #COVID19 characterisation study, Dr Andrew Catchpole goes into detail on the results from the worlds 1st #COVID-19 human challenge study conducted by @hVIVO_UK & what it means for future studies#ORPHhttps://t.co/BP3hDqUYVX pic.twitter.com/mO7GwziIGH

— Open Orphan (@OpenOrphan) February 2, 2022
The Imperial trial exposed 36 healthy male and female volunteers aged 18 to 29 years to the original SARS-CoV-2 strain of the virus and closely monitored them in a controlled quarantined setting.
They will be followed up for 12 months after discharge from the quarantine facility.
No serious adverse events occurred, and the human challenge study model was shown to be safe and well tolerated in healthy young adults, the company said.
"People in this age group are believed to be major drivers of the pandemic and these studies, which are representative of mild infection, allow detailed investigation of the factors responsible for infection and pandemic spread," said Chris Chiu, chief investigator on the trial and professor of infectious diseases at Imperial.
⚠️  New #COVID19 findings: the UK's world-leading #HumanChallenge study, led by our Prof @ChrisChiuLab, has revealed insights into mild infections with SARS-CoV-2 in healthy young adults.https://t.co/xmupZBhaQr

— Imperial College (@imperialcollege) February 2, 2022
With the model established, Open Orphan said it should be able to contract or conduct COVID-19 human challenge studies in 2022, subject to individual ethics and regulatory approvals.
Eighteen of the volunteers became infected, 16 of whom went on to develop mild-to-moderate cold-like symptoms, including a stuffy or runny nose, sneezing, and a sore throat, Imperial said.
Some experienced headaches, muscle/joint aches, tiredness and fever. None developed serious symptoms.
Two participants were excluded from the final analysis after developing antibodies between initial screening and inoculation.
Thirteen infected volunteers reported temporarily losing their sense of smell, but this returned to normal within 90 days in all but three participants – the remainder continue to show improvement after three months.
British researchers have deliberately 'challenged' healthy volunteers with COVID-19, to be able to test future vaccines and therapies.
In April last year, Oxford University scientists launched another human challenge trial which sought to reinfect people who had previously had COVID-19 in an effort to deepen understanding about immunity, rather than infecting people for the first time.
Omicron and flu warning
Australia is set to face in coming months the dual threat of a fresh Omicron wave and the first major surge of flu cases since the pandemic began.
That's the assessment of the country's chief medical officer Paul Kelly, who said winter would bring fresh challenges to Australia's COVID-19 response.
While Omicron cases have begun to plateau in several jurisdictions, Professor Kelly on Wednesday told a COVID-19 committee hearing that new outbreaks were likely to hit during the colder months.
"There will be another wave of Omicron, most likely in the winter," he said.
"Every June since 2020 there has been a wave of COVID in Australia and other southern hemisphere countries."
Professor Kelly said the coming winter would also bring with it the additional risk of rising flu cases.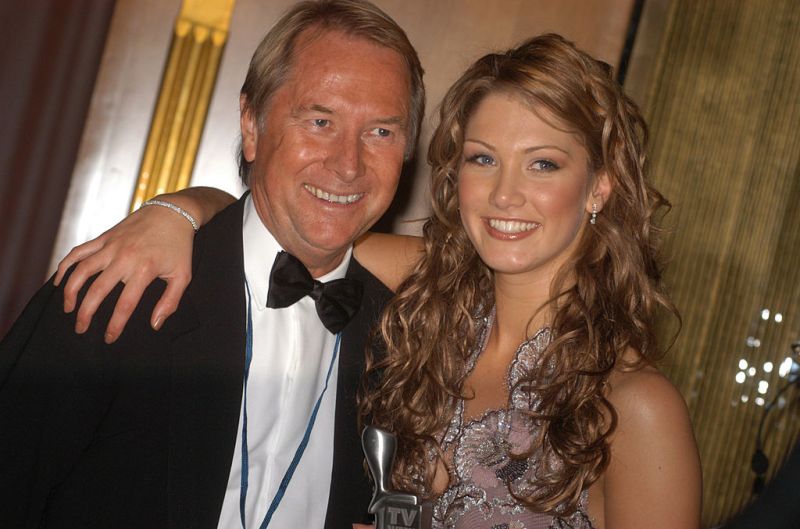 Glenn Wheatley, pictured here with Delta Goodrem, is among recent COVID-19 victims. Photo: Getty
Instances of the flu have largely fallen in Australia since 2020 in the wake of the pandemic, following lockdown measures being enacted during traditional flu seasons in populous states.
However, the chief medical officer said a spike in the flu should be anticipated in 2022.
"There was not a winter surge of the flu last year, and flu in the northern hemisphere is still less than usual, but the flu has not disappeared from the world," Prof Kelly said.
"With two years of no flu, we will probably have (a flu season) and we are prepared for all eventualities."
Prof Kelly said the rollout of flu vaccines would run alongside the rollout of the COVID-19 booster shots in coming months.
The latest figures have revealed almost 8.2 million people have received their COVID-19 booster shot, or about two-thirds of those who are eligible.
However, Wednesday's COVID-19 Senate hearing was told just 66 per cent of fully vaccinated aged care residents had received their booster dose.
It comes despite vaccination teams visiting 99 per cent of all aged care facilities to offer the booster.
The head of the country's vaccine rollout, Lieutenant-General John Frewen, said teams would be conducting second visits of facilities to vaccinate more aged care residents.
Meanwhile, the medical regulator has issued new guidelines for people conducting rapid antigen tests.
The Therapeutic Goods Administration has advised people not to eat, drink, smoke or chew gum for 10 to 30 minutes before they undergo rapid tests, in order to avoid the possibility of a false result.
Easing restrictions in Europe
Authorities have announced moves to ease coronavirus restrictions in Germany, Finland, Switzerland, the Czech Republic and Lithuania.
Calls are building in Germany for an end to all COVID-19 curbs as a government minister said that many rules could fall away next month.
"I hope that in March many protective measures can be withdrawn," Justice Minister Marco Buschmann said in an interview with the Rheinische Post newspaper.
This depends on whether "the number of cases falls again from mid-February," Buschmann said, noting that the country's institute for disease control expects this to happen.
Finland will begin lifting restrictions with the aim of removing all curbs at the beginning of March, Prime Minister Sanna Marin told reporters on Wednesday.
The government now plans to allow restaurants to remain open until midnight and remove curbs on public gatherings from Februay 14, Marin said, adding the aim is to remove all restrictions at the start of next month.
Ms Marin said hospitalisation numbers have steadied and are even showing signs of decreasing.
She said restrictions need to remain in place for two more weeks so that the government can monitor how the epidemic develops in neighbouring Norway and Denmark.
The government also plans to officially retire the COVID-19 passport it used from mid-October to late December, which allowed public venues to only let in people with vaccinations or a recent negative test result.
On Wednesday, Switzerland also began easing restrictions as fears waned that a spike in infections fuelled by Omicron would overwhelm the health care system.
Quarantine for people who come into contact with an infected person and a work-from home order will end from midnight, the government said, although it still recommended that people work from home if possible.
It proposed further easing measures in consultations with regional authorities to run until February 9, with a final decision on how to proceed due on February 16.
Despite record high infection figures, there has been no overloading of patients in hospitals and the occupancy of intensive care units has declined, the government said.
It noted Omicron, although highly transmissible, usually causes less severe illness than earlier variants.
The Czech government agreed to end mandatory testing at schools and companies this month, the prime minister said.
Lithuania's government on Wednesday scrapped a COVID-19 certificate requirement for indoor public spaces, saying it no longer offered protection due to the prevalence of Omicron.
"It would be really good if we never have to return to this measure," Prime Minister Ingrida Simonyte told a government meeting.
NSW school return the 'right thing to do'
Back home, the NSW Premier has defended the decision to send children back to classrooms.
"We cannot ruin our children's future," Dominic Perrottet said on Wednesday.
He said while the school year will have "bumps along the way" it was the "right thing to do".
"We have a duty as a government, we have a duty as a people, to ensure our kids are given better opportunities than we had," he said.
The NSW opposition has been calling for schools to be turned into vaccination hubs for five to 11 year olds.
Labor education spokeswoman Prue Car said on Monday the state "desperately" needs to lift the vaccination rate among those children.
"This would ease the anxieties of parents and teachers and school communities," she said.
Some 40.3 per cent of five to 11 year olds have received a first dose, with the age group becoming eligible for COVID-19 vaccines three weeks ago.
Some 83.3 per cent of children aged 12 to 15 have had one dose, and 78.5 per cent are fully vaccinated.
This is compared with 95 per cent of people aged 16 and over having had one dose, 94 per cent who are fully vaccinated and 40.6 per cent of people 18 and over having received a booster.
Families beginning the school year with their children not vaccinated are being urged to do so "without delay", NSW Health's Dr Jeremy McAnulty said.
WA schools in lockdown
Hundreds of students across three Perth schools are being forced into 14 days of isolation as West Australian Premier Mark McGowan doubles down on his hardline COVID-19 rules.
On Wednesday, WA's health department confirmed positive cases had been detected at Corpus Christi College and Harrisdale Senior High School.
It comes after a teacher tested positive at Winterfold Primary School, forcing dozens of teachers, students and parents into isolation.
The case at Harrisdale involved an entire Year 12 group who attended an orientation program earlier this week.
About 200 students who attended will be forced into 14 days quarantine.
It is not yet clear how many staff or students will have to isolate at Corpus Christi but photos shared on social media showed the entire K-12 student group attended an assembly on Tuesday.
The premier earlier defended WA's closed borders, strict close contact definitions and 14-day quarantine requirement as the state recorded 17 new local Omicron cases.
Qantas chair Richard Goyder and Wesfarmers chief executive Rob Scott are among the local heavyweights who have publicly criticised the premier, saying they will relocate to the eastern states to escape his policy settings.
International students have been left in limbo after being given just days to arrive back into Australia to be deemed eligible for entry to WA.
Mr McGowan has also faced blowback from the powerful resources sector after the virus spread to mine sites operated by BHP and 29Metals this week.
The premier has promised isolation periods will be halved for COVID-infected people and their close contacts but only when the state reaches a yet-to-be defined higher caseload.
"It won't be far away," he said on Wednesday.
"But just so you understand, the 14 days is safer. It ensures we have less spread of the virus in Western Australia, it allows us to get our third dose vaccination rate up without greater community spread of the virus.
"What we've done has saved thousands of lives and many thousands of jobs, and that's the approach we will continue to adopt."
Mr McGowan added that WA's policy settings had made the resources sector the "most successful in the world" during the pandemic.
The government will make additional vaccination bookings available this month in a bid to improve WA's third dose rate, currently at 37.6 per cent.
Winterfold Primary School stayed closed on Wednesday to allow for deep cleaning after a teacher tested positive.
It will reopen on Thursday but with replacement teachers after isolation rules wiped out virtually all of the facility's staff.
Education Minister Sue Ellery said the infected teacher had attended a professional development day on Friday with 55 other staff.
They will all be required to quarantine for 14 days, along with 27 children who shared a classroom with the teacher on Monday.
The children's parents, and in some cases other household family members, will also have to isolate.
Ms Ellery had last week declared schools would be the "last to close" during WA's Omicron outbreak, which grew by a further 17 local cases on Wednesday.
She defended the government's policy settings, insisting there was a pool of about 4000 relief teachers ready to step in during future outbreaks.
But WA Principals Federation president Bevan Ripp told ABC radio the pool of relief teachers had already been "absolutely decimated".
-with AAP
Topics:
COVID-19,
human challenge trial,
Open Orphan