Banish bad food habits with these kitchen strategies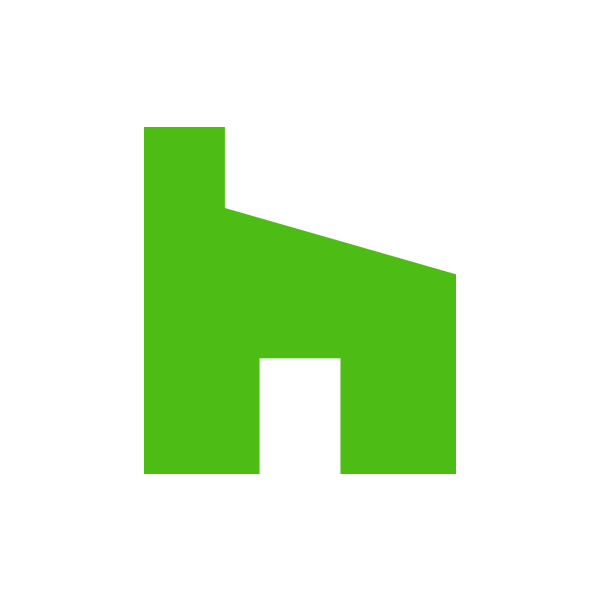 Having healthy food on hand can keep binge-eating at bay. Photo: Jennifer Bishop Design
For too long now, we've been swamped with confusing messages about "good" and "bad" foods, flummoxed about nutrients and ingredients, and taught to beat ourselves up about our eating habits.
Fortunately, the conversations around food are getting saner, as smart dieticians and food writers push back against fashion-craze "diets", pseudo science and negativity.
Health research supports – surprise, surprise – easy ways to eat well, that look a lot like how our grandparents ate.
While there'll always be a place in our design books for sleek, architectural kitchens that look like nobody ever cooked in them – let alone ate standing at the sink – real kitchens are for real people to enjoy real food. Happily, with no use of that G-word – guilt.
Before you start saving pictures or lusting after light fittings, take a step back. Start your kitchen re-think with some self-examination about what food and cooking mean to you.
Do you 'eat to live' where simply eating – let alone cooking – is a chore that keeps you from doing the stuff you really love? Do you love to eat, and find that making and sharing your cooking is your favourite form of therapy? Or do you fall somewhere in between – a weekend bliss cook, but a mid-week hurried take away or easy meal prep due to a busy life of work/commute/family service?
Keep 'real' foods close to hand
The best, healthiest kitchen is one filled with healthy foods. As food writer Michael Pollan has neatly summarised – and been repeated by every other food writer – we simply need to do three things: eat food, not too much, mostly plants.
Start your plan then with a kitchen that supports storing and sharing real food. Have as much storage for real foods – fresh fruits, vegetables, root crops, wholegrain and complex carbs – as you do for packaged goods.
Create a kitchen layout where the easiest foods to get to are the best for you; where the tools you need to support healthy eating are right at your fingertips, not in a hard-to-reach cupboard.
If eating whole fruit or raw vegies is a chore – it's not just little ones that are put off by ploughing through one big piece of fruit – create enticing snack trays of pre-cut fresh fruit and veg to keep in the fridge for snacking.
Make a pantry plan
Organising your pantry so the good foods that you want to use most often are the ones most easily accessible, may mean a good clean-out and a fresh start.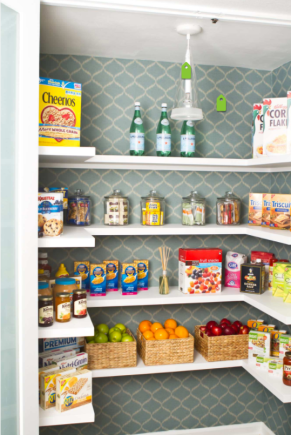 A pantry that prioritises healthy snacks is key to staying on the right track. Photo: Charmean Neithart Interiors
That doesn't mean you have no bags of chips or biscuits, ever, it just means that the good foods like fruits, grains, pulses and tinned vegetables dominate your shelves.
A pantry that is organised for kids to help themselves to healthy snacks means they are less likely to sneak into the cupboard for chips or lollies.
In this crash pad for runaway teens in Venice Beach, California designed by Charmean Neithart Interiors, even the snacks provided in the pantry help the kids restore their lives with fresh fruit and healthy snacks on hand.
Sit down for dinner
Humans evolved to eat food together, not on their own. Even if your mid-week schedule means there is no slot for the whole household to sit together for dinner or breakfast, create a space where sitting down is encouraged. While not everyone is eating together, there's still a social buzz, which is good for the body and soul.
Try to create one or two times a week when phones are put to one side, and people talk while eating face to face. It doesn't have to be dinner-party formal – a comb of the fridge for a stir-fry or pasta cook-up, shared take away or pot luck will do.
Designing a kitchen that has space to gather around the cooks while everyone is sharing food and conversation will create a great, healthy environment for the family. Plus, even clean up and dish-washing becomes a social event.
Grow your own
Make a space in the kitchen for growing your own food. If your kitchen or nearby living space has great sun, you can even pot citrus for lemons or mandarins to add zest to any dish.
If you're buying supermarket herbs, go for the potted ones rather than cut and plastic-wrapped ones. Then collect some vintage jars or tins to keep them pretty on the bench for snipping and eating.
A spare spot that gets some sun is perfect for a green wall of herbs. They may need to be rotated out to the garden when they get a bit straggly. Or grow micro-greens to snip into salads and blend into smoothies.
At the luxury end of the market, this extraordinary demonstration eco kitchen designed by Massachusetts sustainable interior designers 'g' Green, was created for a nutrition consultant and raw foodie. It includes an urban cultivator the owner uses to grow fresh herbs – perfect for farming your wheatgrass smoothies year round.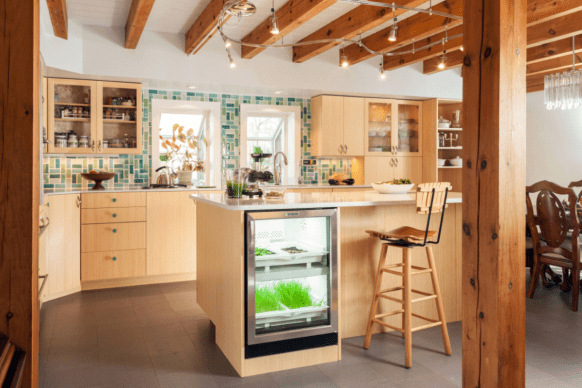 This is the dream eco-friendly kitchen for healthy cooking and eating. Photo: 'g' Green Design Centre
Wise up to accessible appliances
There is nothing more frustrating than a kitchen that resembles an appliance store – but many of them barely make it out of the box. But this can be fixed. Step one – organise your appliances into one central spot. That way, when the urge takes you to make sorbet, or juice that bag of citrus, you're not wasting time trying to find the right tool.
Keep the appliances you use most closest to hand. Some people don't mind an array lined up on the bench, others prefer them neatly out of sight (and dust-free) in a cupboard.
Rotate them: in winter, keep the fast-slow cooker on the bench for warming casseroles, in summer have the ice-cream maker at your fingertips.
Challenge yourself to find recipes that make the most of an appliance – pilafs in the rice cooker or quesadillas in the panini press. We've all heard the de-cluttering rule: if you haven't used something in a year, find a new owner who will.
Keep tools to hand
The same rule applies to low-tech tools too. Healthy cooking doesn't require much: a good knife, a whisk, ladles and strainers. Plus, flavoursome additives from spices, vinegars and sauces that add umami punch without the calories.
An organised utensil drawer keeps tools that support healthy cooking to hand: baking paper for non-stick baking without fat, measuring cups for portion control, a degreaser for skimming fat off pan juices before you make gravies, a zester for adding citrus punch to cooking, and a spiraliser or serrated veggie peeler for making vegetable 'spaghetti'.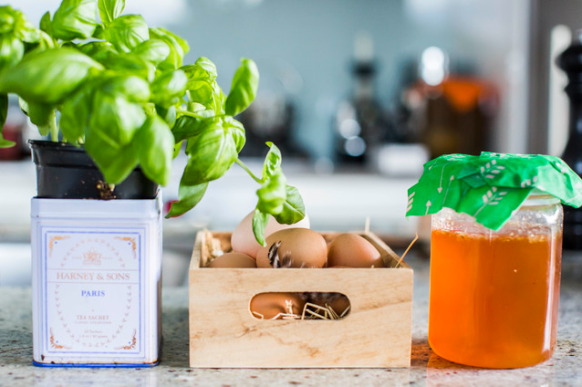 Keep fresh ingredients on hand so you can whip up a healthy meal in no time. Photo: Charlotte Christian Photography
Make your own
Baking your own cakes, loaves and slices means you know exactly what goes into your food: no additives with weird numbers, no extra sugars or fats. Plus, you get the great therapy of baking (especially if you do it with family), great flavour of homemade, and it's a whole lot healthier.
Juicing your own fruit and vegetables means you know exactly what you're getting, and you're not paying crazy cafe prices. A blender or food processor makes whipping up your own pesto, sauces or hummus, or smoothing roasted or steamed vegies into soups, fast.
A low-tech solution also gives you a great work out – toned arms, as well as a happy digestive system. Bonus.
Making your own snacks means you control exactly how much salt and fat you're adding. Popcorn makers are a fun gift, or look out for slicers and racks that let you make potato chips in the microwave.
Upgrade to grills and steamers
If you're about to upgrade your major appliances in the kitchen, look for cooking alternatives that promote flavourful healthy cooking. An egg barbecue, or in-bench grill encourages you to get smokey barbecue flavour all year around.
Add a teppanyaki grill or in-bench hotplate for fast stir-fry tossing of vegetables, meat and seafood. The clever part of tossing knives and spinning the pepper grinder may come later.
An in-bench steamer is a fast way of cooking vegetables to retain their goodness. Can't afford the fancy end? A wok with a $A9.50 bamboo basket does the same job.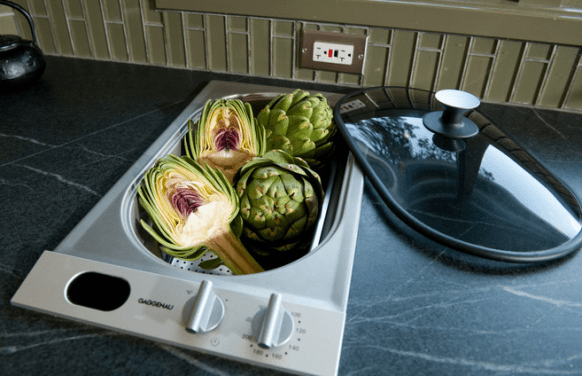 Consider investing in a steamer. Photo: Susan Lund
Don't ignore raw
Serious raw foodies do more than just grate a carrot or two: there's actually a lot of time and preparation that goes into keeping food flavoursome without cooking it. There are heavy-duty juicers and blenders for making soups, sauces and nut-milks, but the biggie is a dehydrator that allows you to make your own raw fruit and vegie leathers and chips, dry fresh herbs and more.
Raw foodie blogs are full of ideas for using dehydrators too. With clever tips to make vegetable and seed crackers, for preparing warm food, for getting the crunchy textures with things like raw cookies, and even recipes like raw stuffed peppers or mushrooms.
Waste not
Finally, one of the biggest trends in healthy eating is eliminating kitchen waste. New Zealand's Love Food, Hate Waste organisation estimates that Kiwis throw away some $A832 million of food a year. That's 122,550 tonnes, or enough to feed nearly 263,000 people.
Foodwise Australia reckon each household wastes $A1036 a year, about 20 per cent of the food bought, some $A8 billion a year. That is not healthy for the planet – food waste fills landfills – or your budget.
Challenge yourself to make your healthy kitchen non-wasteful too: create dishes that empty the fridge, fruit bowl or pantry before you buy more. Turn vegie scraps you can't freeze into soups and stocks, or put the leftovers into a compost or bokashi bucket. Most important, shop thoughtfully.
• See more kitchen designs in our photo gallery 

• Find your perfect kitchen island bench   

• Seek the help of a kitchen designer in your area
By Catherine Smith