Big tobacco and big business are getting into bed with cannabis … big time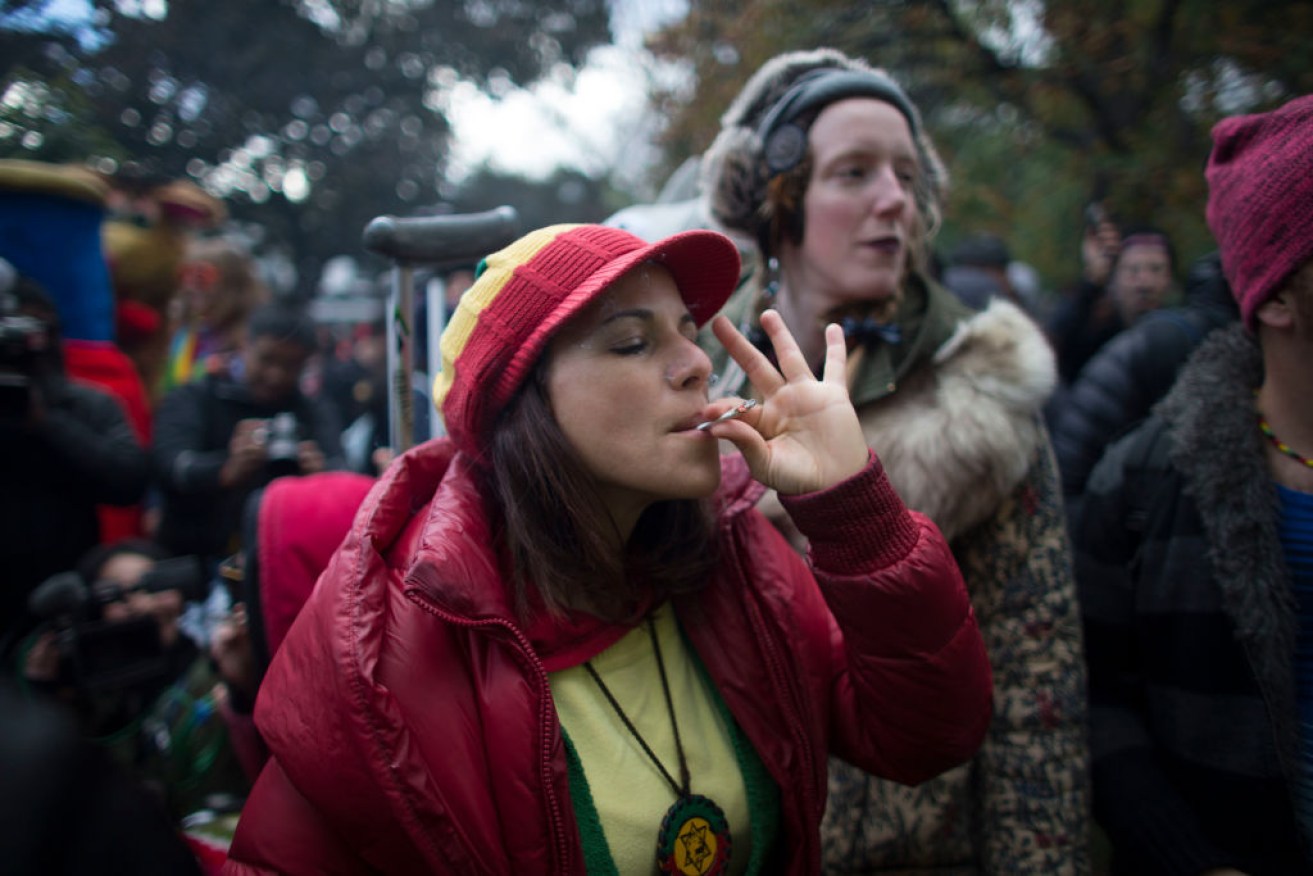 A woman smokes marijuana at a legalisation party in Toronto, Canada. Photo: Getty
A move by one of the largest tobacco companies in the United States to buy half of cannabis company Cronos for $US1.8 billion ($2.5 billion) this week signals the gold rush into the marijuana industry is booming.
Altria, which owns Philip Morris – maker of Marlboro, Benson & Hedges, Alpine and a host of other cigarette brands – is desperately trying to replace sliding sales as smoking, and smokers, literally die out.
US government agency, the Centre for Disease Control (CDC) and Prevention, says the percentage of people who smoke in the US has plunged off a cliff in recent years – down from 20.6 per cent in 2008 to just 14.1 per cent in 2017.
As the long downtrend snowballs, Big Tobacco is eyeing a budding cannabis market that has a much healthier, long-term outlook.
Proponents of legal marijuana have spent decades fighting a slow battle for mainstream acceptance. Now, with recreational use legal in Canada as well as many US states, the vultures have begun to circle.
Canada became the first Group of Seven country to legalise adult recreational use of pot in October. Nine US states and Washington DC also allow recreational marijuana use, while 31 states and Washington DC allow medical marijuana.
The cannabis ban continued to unwind when the Farm Bill was passed by the US Senate in June. It included provisions for the legalisation of industrial hemp, a source of the ingredient cannabidiol, or CBD – one of the primary cannabinoids that occur naturally in cannabis.
Big Tobacco's first strike on cannabis came in June when British giant Imperial Brands – the world's largest producer of cigars and fine-cut tobacco that produces more than 320 billion cigarettes a year – bought a share of Oxford Cannabinoid, which is developing medical therapies from cannabis.
It's easy to see why Big Tobacco sees a link between cigarettes and marijuana: both can be smoked and vaped, both have mood-altering components and both are easy to mass produce.
Big Tobacco also has the money and the clout to engage in serious research, and investment in cannabis companies can help overcome some serious image problems.
With cannabis associated with sickness, addiction and death for decades, experts say a move into beneficial medical, and more healthy, products could be a major boost for their brands.
Tobacco companies also have some of the world's most powerful marketing and political lobbying machines – tools that could be leveraged to ensure regulated, safe products and workable, consumer-driven legislation.
Marijuana companies have to deal with a maze of regulations. Tobacco companies are already experts at handling regulations.
"There's always been the expectation that big business was going to come in," Bethany Gomez, director of research at Brightfield Group, a cannabis market research group, told The New York Times.
"Now we're past the point of no return."
Consumers are expected to spend $US57 billion ($79 billion) a year worldwide on legal cannabis by 2027, according to Arcview Market Research, a cannabis-focused investment firm. In the US, spending is tipped to grow from $US8 billion ($11.1 billion) last year to $US47.3 billion ($65.8 billion) in 2027.
And it's not just Big Tobacco that is looking to get drunk on the fledgling cannabis market.
In August, the beverage industry announced two big deals with marijuana companies.
Molson Coors unveiled a partnership with HEXO that will see it develop cannabis-infused beverages, and Constellation Brands, which owns Corona and other beers, paid $US4 billion ($5.05 billion) for a major stake in Canopy Growth, another Canadian marijuana company.
Global giant Coca-Cola also has reportedly held talks with Aurora Cannabis to develop beverages infused with CBD, while Heineken's Lagunitas Brewing and Diageo, the drinks group behind Johnny Walker whisky, has also been exploring investment opportunities.
As billions of dollars pour into product development, marketing and manufacturing, these companies are looking to create big brands with market share to match.
And if nothing else, Big Tobacco and the beverage giants certainly know how to develop and promote global successful brands.