World-first pill may stop Parkinson's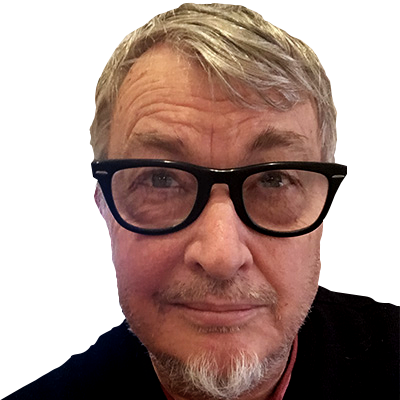 The therapy is partly under-written by the Michael J Fox Foundation. Photo: Getty
A new therapy that appears to stop Parkinson's disease "in its tracks" will begin phase-one clinical trials in humans next year.
The therapy, developed by researchers at the University of Queensland – and partly under-written by the Michael J Fox Foundation – is a world first because it stops the death of brain cells in Parkinson's sufferers rather than managing symptoms.
If human trials echo the stunning results in animal testing, the inflammation of the brain that causes so much of the progressive damage in Parkinson's disease (PD) could be halted by taking a single pill each day.
UQ Faculty of Medicine researcher Associate Professor Trent Woodruff said the key to the new therapy is a small molecule, MCC950 – a compound developed and abandoned 10 years ago by a big pharma company that didn't understand how it actually worked.
At that stage, though, inflammation in the Parkinson's brain was less well understood.
Parkinson's disease, said Dr Woodruff, is characterised by the loss of brain cells that produce dopamine, a chemical that co-ordinates motor control – and it's the loss of dopamine that has been the focus of treatment. But it is also accompanied by this chronic inflammation that occurs as an immune response gone haywire.
It works like this: Inflammation is activated in our cells by complex proteins called inflammasomes. About five years ago, Dr Woodruff and his team found that the immune system causes the NLRP3 inflammasome to light up in Parkinson's patients, with signals found in the brain and even in the blood.
They then found that the tiny molecule MCC950, given orally once a day, in experiments with mice, "blocked NLRP3 activation in the brain and prevented the loss of brain cells, resulting in markedly improved motor function".
UQ Institute for Molecular Bioscience researcher Professor Matt Cooper – who initially experimented with MCC950 in the treatment of an auto-inflammatory disease called Muckle-Wells syndrome that can cause deafness and kidney failure – said drug companies had traditionally tried to treat neurodegenerative disorders by blocking neurotoxic proteins that build up in the brain and cause disease.
"We have taken an alternative approach by focusing on immune cells in the brain called microglia that can clear these toxic proteins," he said.
"With diseases of ageing such as Parkinson's, our immune system can become over-activated, with microglia causing inflammation and damage to the brain."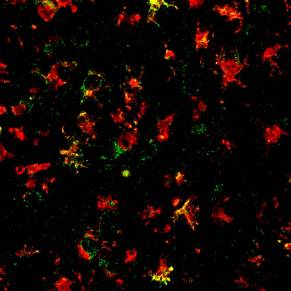 The NLRP3 inflammasome (green) is expressed by immune cells (red) in the brains of people with Parkinson's disease. Photo: University of Queensland
He said MCC950 effectively "cooled the brains on fire", turning down microglial inflammatory activity, and allowing neurones to function normally.
This was achieved with three different models of Parkinson's on mice. It took a further two years of tests in order to convince the editors of the prestigious journal Science Translational Medicine of the efficacy of treatment. The researchers' paper was published on October 31.
The progress of MCC950 to market appears to be happening rather quickly. Both the Michael J Fox Foundation for Parkinson's Research and the Ireland-based drug company Inflazome are keen for human trials to start as soon as possible.
Dr Woodruff said much of the preclinical work was already completed.
The biggest hurdle, apart from funding, is that MCC950 came off a patent. This means the researchers have had to develop variations of the original drug for intellectual property reasons. Those new drugs are currently being tested and, according to Dr Woodruff, proving to be even more effective.
There are 10 million people with Parkinson's disease worldwide. They still have a few years to wait and see if the magic in the lab can be replicated in people.
The phase-one tests next year will determine whether or not the drug is safe in healthy people. All going well, volunteers with Parkinson's will be recruited for phase-two testing in 2020.
Whether Michael J Fox himself will be one of those volunteers is not yet known.