Some of our favourite foods, including the strikingly reddish-orange salmon, do not end up on supermarket shelves in the vibrant, mouth-watering colours and shapes we enjoy so much without a little help – and some potential side effects.
If not for an additive created in a lab, most of the salmon we buy at the supermarket would be an unappetising grey, a major fish farming company has revealed.
Tassal and other market leaders add a "nature-identical" nutrient, which mimics a powerful antioxidant, to fish grown in captivity to prevent the flesh and skin becoming "a paler colour", says a spokeswoman.
• Parents 'duped' by sugar-coated breakfast cereals
• Homeopathy a load of rubbish, science finds
• How you've been 'tricked' by targeted painkillers
"It's not just the pink colour it gives them. It also has health benefits. They need it for their reproductive system, and they also need it for general health as a micronutrient," says Tassal head of sustainability and fish health Linda Sams.
"It mimics what they'd be eating in the wild," she says. "That's what makes salmon so attractive, that colour."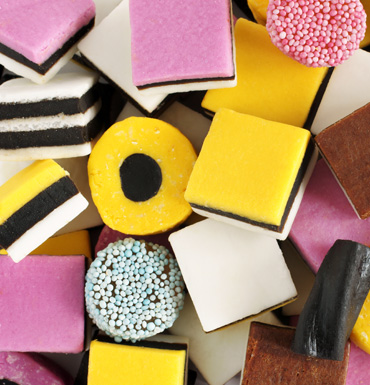 Coloured junk food is the real concern, says expert. Photo: Shutterstock
These additives, which scientists can tinker with to change the desired shade, have no known health risks. In fact, the most common substance, astaxanthin, is regularly sold in stores as an antioxidant health supplement.
But the commercial incentive for food growers and sellers to create perfect-looking and tasting food can have worrisome consequences.
Earlier in March, Citrus Australia warned that some Chinese fruit growers dip their oranges in toxic, industrial-grade dyes to boost sales.
The caramel colouring used to turn some fizzy drinks brown is also thought by some US scientists to cause cancer (although European health authorities deny this).
And every year, thousands of tonnes of misshapen and deformed vegetables and fruits are thrown away because they fail to live up to our high standards of gastronomic beauty, despite being perfectly edible.
For Dr Rosemary Stanton, the biggest concern is junk food, which is manufactured to be appealing to both our eyes and taste buds.
"What I am concerned about is the colourings that go into confectionaries, soft drinks, cakes, and biscuits," she says.
Several studies in the UK established a link between the artificial colourings commonly added to unhealthy snacks and inattention and hyperactivity in some susceptible children.
Health authorities in Australia chose not pursue the research, which disappoints Dr Stanton, who thinks the health risks should be examined more closely.
There are "hardly any" foods treated with artificial colours that "you should be eating at all", she says.
"It's a good marker that this is not a good food you should be consuming.
"Even if you're not concerned about the colouring, you ought to be concerned about the junk food it's going into."
Tassal's Ms Sams agrees that when it comes to what we eat, transparency is key.
"Consumers do really want to know what's in their foods and we applaud and support that and try to be really transparent," she says.