Plastic bags ban: Here's how the alternatives stack up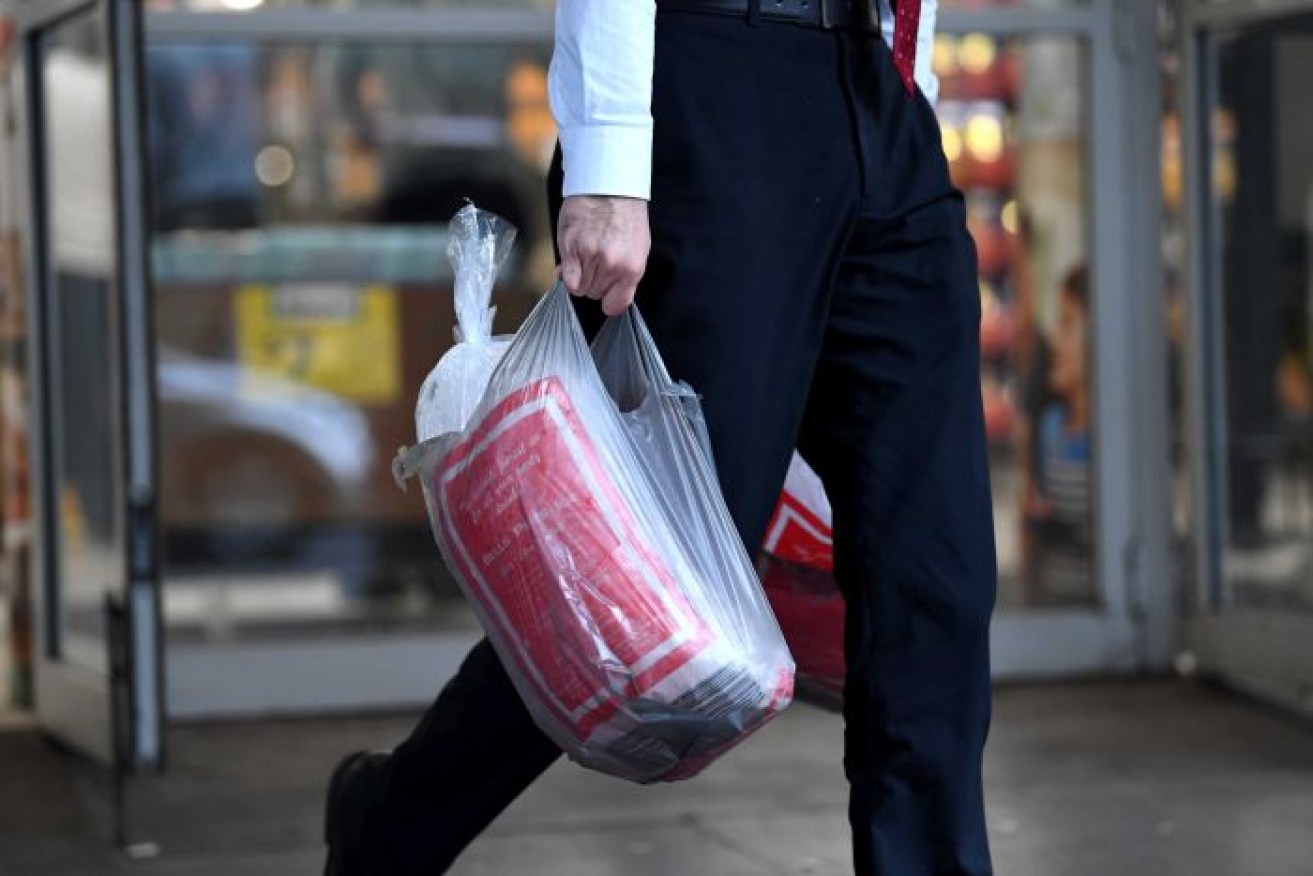 Lightweight plastic bags are cheap, but the damage they impose on our planet is immense. Photo: AAP
Plastic bag bans are here.
For any states still able to get their hands on single-use shopping bags, the party comes to an end today in Woolworths, and on July 1 in Coles and IGA stores nationwide.
Also on July 1, Queensland and Western Australia will be joining the Northern Territory, the ACT, Tasmania and South Australia in a total statewide ban on the bags.
So with the writing on the wall, we can either pay for heavy-duty plastic bags, or start bringing our own.
The research says the majority of us will do the latter.
In Tasmania, nine out of 10 shoppers used reusable bags to do their shopping after the bans came into effect in 2011, up from six out of 10.
So if the future of grocery cartage is reusable, what are our options and how do they stack up?
Switching single-use for heavy-duty plastic bags?
If your aim is to reduce the amount of plastic you consume, replacing single-use plastic bags with heavy-duty, multi-use ones doesn't really add up.
You'll need to reuse a heavy-duty bag at least four times to recoup the extra energy needed to make it, according to a British life-cycle assessment of the comparative energy costs of different bag materials.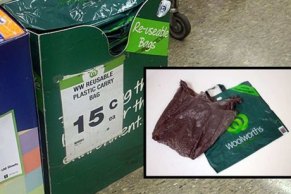 The heavier-duty plastic bags will still be available for 15 cents. Photo: ABC
And then you've still got the issue of the plastic bag.
Research has found that about 1 per cent of plastic bags used in Australia end up in the environment.
And if our heavier-duty bags reach the oceans and other habitats, they could cause as much if not more damage than single-use bags currently do.
This is because heavy-duty bags can take longer to break down.
Heavy-duty bags will be the default option at these supermarkets at a cost of about 15 cents.
However, both the major retailers claim their heavy-duty bags are made from 80 per cent recycled material, which is something according to Clean Up Australia chief executive officer Terrie-Ann Johnson.
"They're better environmentally than single-use bags," she said.
"But the thing that disturbs us is the Aldi experience — people don't tend to reuse them. They use them as bin liners and they end up going into landfill."
Take your canvas (cotton) bags to the supermarket
"Think about the world and how the world would be fantastic if we could get rid of all the plastic," comedian Tim Minchin sang in 2005.
His alternative advice was to "take your canvas bags to the supermarket".
Canvas, although traditionally made from hemp, is now produced from linen or cotton.
The first thing you need to know if climate change or water scarcity are your concern is that you'll need to use your canvas bags about 100 times before you're ahead of single-use plastics.
Exact figures are difficult to calculate because there are so many variables such as where the cotton is grown and where the bag was made.
But an analysis by the British Environment Agency estimated that from a climate change perspective, cotton bags need to be used 131 times before they break even with single-use, high-density polyethylene (HDPE) bags.
Cotton is also extremely water intensive.
A hectare of cotton takes almost 8 million litres of water to grow on average, and about 90 per cent of Australia's cotton comes from the Murray-Darling Basin, where water scarcity has become a major issue.
The good thing is you can use cotton bags hundreds or thousands of times, they're washable, and biodegradable.
So you can also throw your cotton bag into the compost when it comes to the end of its life.
Hemp
Hemp is one of the oldest farmed crops on the planet, having been cultivated for its strong fibre in China as long as 10,000 years ago.
The advantage of hemp is that the usable fibre comes from the stem of the plant and is resistant to most pests, requiring little if any pesticide, according to Felipe Favaro from Hemp Foods Australia.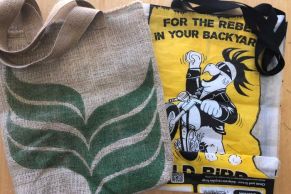 Jute is a coarse form of hessian. Photo: ABC
"Because it grows so fast, it usually grows faster than any other pest [plants]," he said.
"[And] it uses way less water compared to cotton for example."
If you can get your hands on a hemp shopping bag, it's a strong, lightweight and biodegradable material, and a much better alternative to plastics.
Chances are though the hemp won't have been grown here in Australia.
Despite the crop being legal here for the production of fibre, as of 2012 the industry was only worth about $300,000 to the Australian economy according to AgriFutures Australia.
But the industry has grown quickly since hemp was legalised as a food crop in November 2017, Mr Favaro said.
"The last crop we had was last summer, we had around 600 acres and now we're expanding on that even more," he said.
Although industrial hemp is a strain of Cannabis sativa — the same crop favoured by the likes of Cheech and Chong and Snoop Dogg — the active tetrahydrocannabinol (THC) content is strictly regulated.
Growing plants with a THC level above 0.35 per cent in Victoria, WA and Tasmania, and 1 per cent in New South Wales and Queensland will still get the police knocking on your door.
Jute
Jute has got the seal of approval from Clean Up Australia.
Jute is a heavy-duty material, which in its more refined state is also referred to as hessian.
"That's the one we're supporting," Ms Johnson said.
"It's a lot more sustainable, it doesn't use as much water, and it's not used for anything else. You wouldn't wear it."
Jute is the second-most abundant commercially grown fibre in the world behind cotton, and similar to hemp, is not dependent on pesticides.
More than 80 per cent of the world's jute is grown in Bangladesh and India.
Although this means there is a carbon cost in transporting jute to Australia, the crop itself is effectively carbon neutral. A hectare consumes about 15 tonnes of CO2, which is stored in the plant and fibre until it biodegrades.
Can plastic bags be 'green'?
So-called "green bags", which have been available in supermarkets now for a number of years, are a heavy-duty, non-woven polypropylene.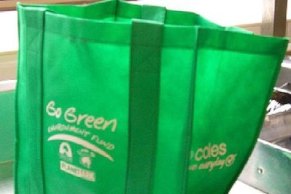 Green bags are relatively energy efficient to produce, but aren't biodegradable.
These are much thicker and more robust than the 15-cent reusable variety, and usually retail for between $1 and $2.
Polypropylene film, which is a type of plastic, is a by-product of oil refining.
Despite being a product of fossil fuels, they're a relatively low-energy intensive product to make.
According to the British study, the production of polypropylene bags created about 11 times the "global warming potential" of single-use bags.
In other words, you have to use your green bags 11 times to break even from an emissions perspective.
But they're relatively efficient in terms of water use, and are strong enough to be used for years.
According to Green Bag Co Australia, they can be thrown in the washing machine to clean, although they caution against putting them in the dryer, as polypropylene "can't withstand high heat".
The drawback to the green bags though is they can break down into microplastics if they find their way into the environment and cause the same issues as their lightweight cousins.
Whatever bag you choose, the New South Wales Food Authority has some advice.
"When using reusable bags, make sure you regularly wash them," a spokesperson said.
"Use separate, leak-proof, easily washable bags for meat/poultry, seafood and for fruit and vegetables."
The 'bin liner dilemma'
There's concern that the single-use plastic bag ban will result in a sharp increase in bin liner sales.
The argument goes that most people re-use their plastic bags as bin liners and the bag ban simply replaces one problem with another.
A review of the ACT ban in 2012 found that bin liner sales had indeed increased by 31 per cent a year after the ban came into place.
But a second review in 2014 found that sales had settled back down to pre-ban levels.
So if we're not using plastic bags or more bin liners, what are the options?
Zero Waste South Australia put together a fact sheet on what they call "the bin liner dilemma", and concluded there is no perfect answer.
The best option they said, is to use no bin liner at all.
However, needing to wash the bin more frequently, using extra cleaning products, and the lack of wheelie bins in some communities were still drawbacks to this route.