We tried making a Cronut. We failed. Dismally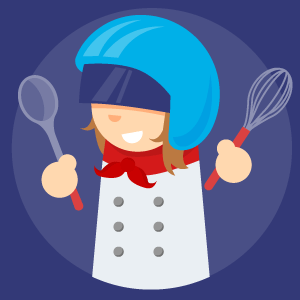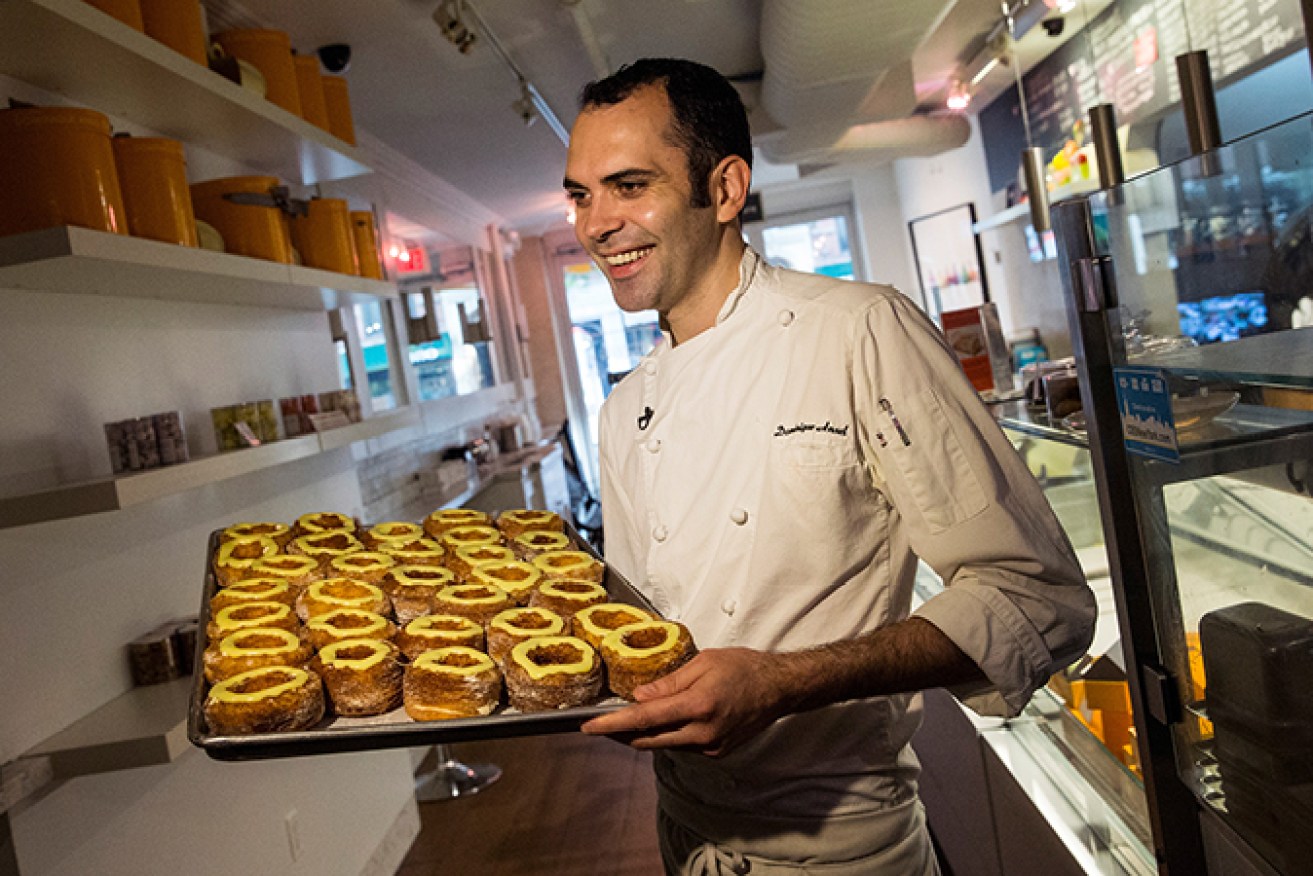 Dominique Ansel which his cornets, which regularly sell out before 8am.
Our Recipe Road Tester is a food lover who estimates she's cooked over 10,000 meals in her lifetime and continues to cook for a family of four. We will not be revealing her identity.
The recipe: The At-Home Cronut(™) Pastry
As a home cook there are some things I think just aren't worth attempting at home. MasterChef finals recipes, anything that runs more than three pages in a cookbook, and croissants. So why would I attempt the Frankenstein of croissants, the Cronut (™), a mashup of croissant and donut that inspired a line of frankenfoods, (cruffins, the cakewich, ramen burgers etc)?
Its creator, Dominique Ansel, says "it changed the world". It certainly changed his: customers queue for hours before dawn at his New York bakery to buy them. They've been imitated around the globe, resold for $100 apiece. He even trademarked it.
Read the full Cronut recipe here
The Cronut is to baking what the Paris to Dakar rally is to Sunday drives. A possible consolation? The steps taken around the kitchen across the three days it takes to make possibly render the Cronut (™) kilojoule neutral.
Ansel describes it as an advanced recipe; suggesting it takes four hours across three days. The recipe covers six pages in his new book. You're making ganache, glaze, flavored sugar and pastry and deep frying it.
My only other question is could I fly to New York, wait in line and buy a genuine Cronut(™) in less time than it takes to make them? The answer, is, actually, yes. But that won't stop the baking nerds among you from having a go.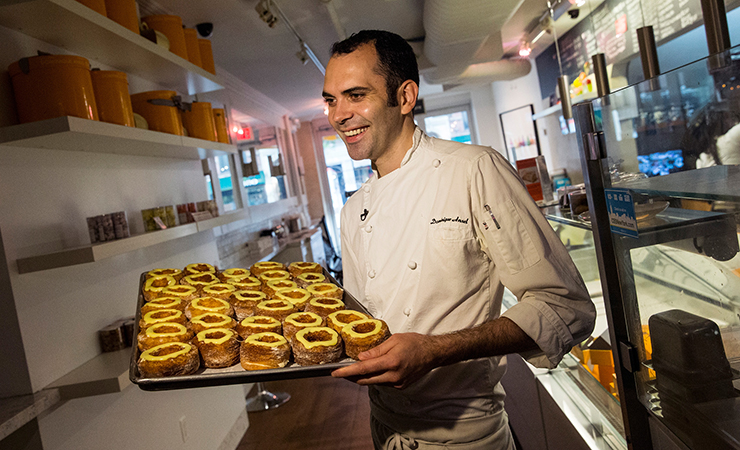 Dominique Ansel with his Cronuts, which regularly sell out before 8am.
Day one
Make the champagne and chocolate ganache. I'm not opening a bottle of real champagne to use half a cup, and it's too early to drink the rest, so I settle for a mini bottle of prosecco left over from a 21st. It works beautifully.
The pastry is straightforward. I shape the slab of butter that will be sandwiched between the pastry tomorrow. I'm out of the gates like Steve Moneghetti.
Day two
As I 'laminate' the pastry (sandwiching a slab of butter between it, rolling, folding, repeating) I begin to realise I've mucked up. I haven't worked the butter enough. Young French baker Gontran Cherrier actually bashes his with a rolling pin. I watched him do it in a cooking class once (most of the rest of the class were watching Gontran, rather than his technique). See him do it below. It's in French, but who cares?
To start again would set me back an entire day. The butter stays cold and hard in the centre of the pastry. It resists the pin, surly and lumpy within the soft flesh of the pastry like bad breast implants. I begin to worry this will ruin the end result. But it still has to rest in the fridge overnight, so I won't know till tomorrow if my Cronuts (™) will fail.

Day three
Although the little rings of pastry are tricky to handle, they deep fry relatively well, though due to my failures with the laminating, they are flatter and less flaky than Ansel's originals. I fry a bit of the dough to test it out. It tastes like something you'd get at the Royal Show, and sadly, looks that way too.
Still, it's easy to inject them with ganache, roll them in sugar, and glaze them (though I overlooked 'fondant' on the ingredient list and had to make up the chocolate glaze.) By the time I've made them, I've tasted pastry, ganache, fried dough, and can barely manage a mouthful. I'll leave the verdict to the family.
The road test
Ingredients
Pretty straightforward. Apart from 'glazing fondant' and French champagne. In my view, the Cronut (™) needs glaze like Penelope Cruz needs false eyelashes.
Difficulty
It's not hard, it's just time consuming. And laminating pastry is tricky. And you need a deep frying thermometer, and a piping gizmo with a wide injection point.
Appearance
Dominique's looks a lot better than mine. Mine look like calamari rings gone wild.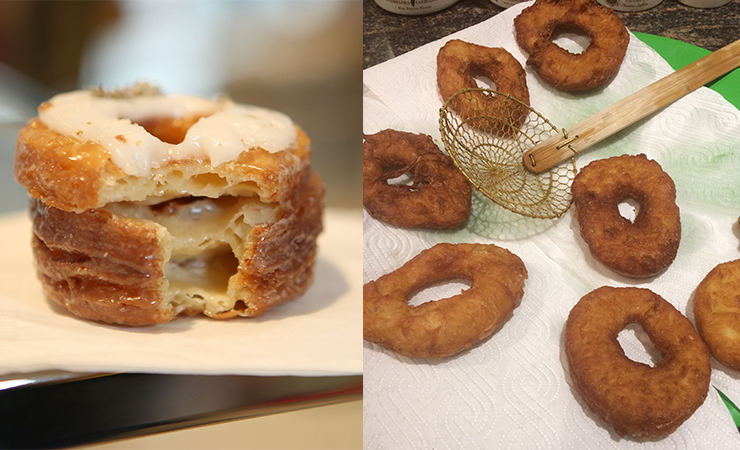 The original (left) vs. our "calamari rings gone wild".
Warning
The term 'do not try this at home' may well have been invented for this recipe. But as it's a recipe urging you to try it at home, perhaps 'under adult supervision' may be appropriate.
Tips
Read up on 'laminating' pastry before you start. That's layering butter and pastry to get that flaky, croissant pastry. My laminating was my downfall. If I'd been a tradesman I'd have ended up on A Current Affair.
The downside
Apart from the fast track to type 2 diabetes? The time.
Time
Five hours across three days.
Ingredient cost
Relatively inexpensive unless you use proper champagne, and top quality butter and chocolate.
Cleanup quotient
Not so bad given the time involved. But what do you do with 750 mls of used grapeseed oil? I've filtered and frozen mine.
The verdict
So three days after starting the recipe, was it worth it? In a word: no. Though male family members swooned over them, to my taste they were too sweet.
With the dough leftover after cutting the donut shapes I baked croissants, which were just beautiful. And I baked rather than fried some of the 'cronut' rings and sandwiched them with the ganache. I christened them 'crobagelnuts'. They were delicious.
So, attention baking nerds, this one's for you. You made the snow egg from MasterChef? And the Heston dessert? C'mon down. Personally, I'd rather go to New York for them.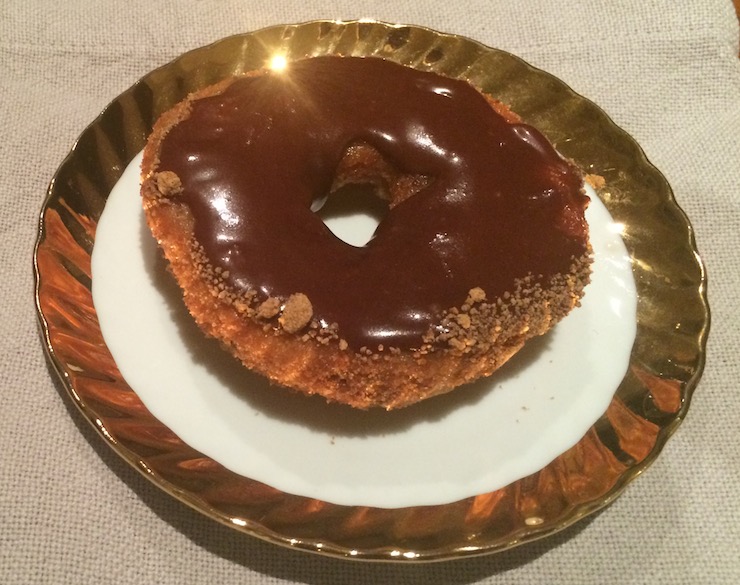 The finished product – made at home.
Occasion
The baking equivalent of the Cradle Mountain Track, but not as good for you.
Would I make it again
No.
Buy the book? 
Yes, from kouign amanns to macarons, it's an adventure playground for keen bakers and pastry cooks.