Windows wants to charge you to play Solitaire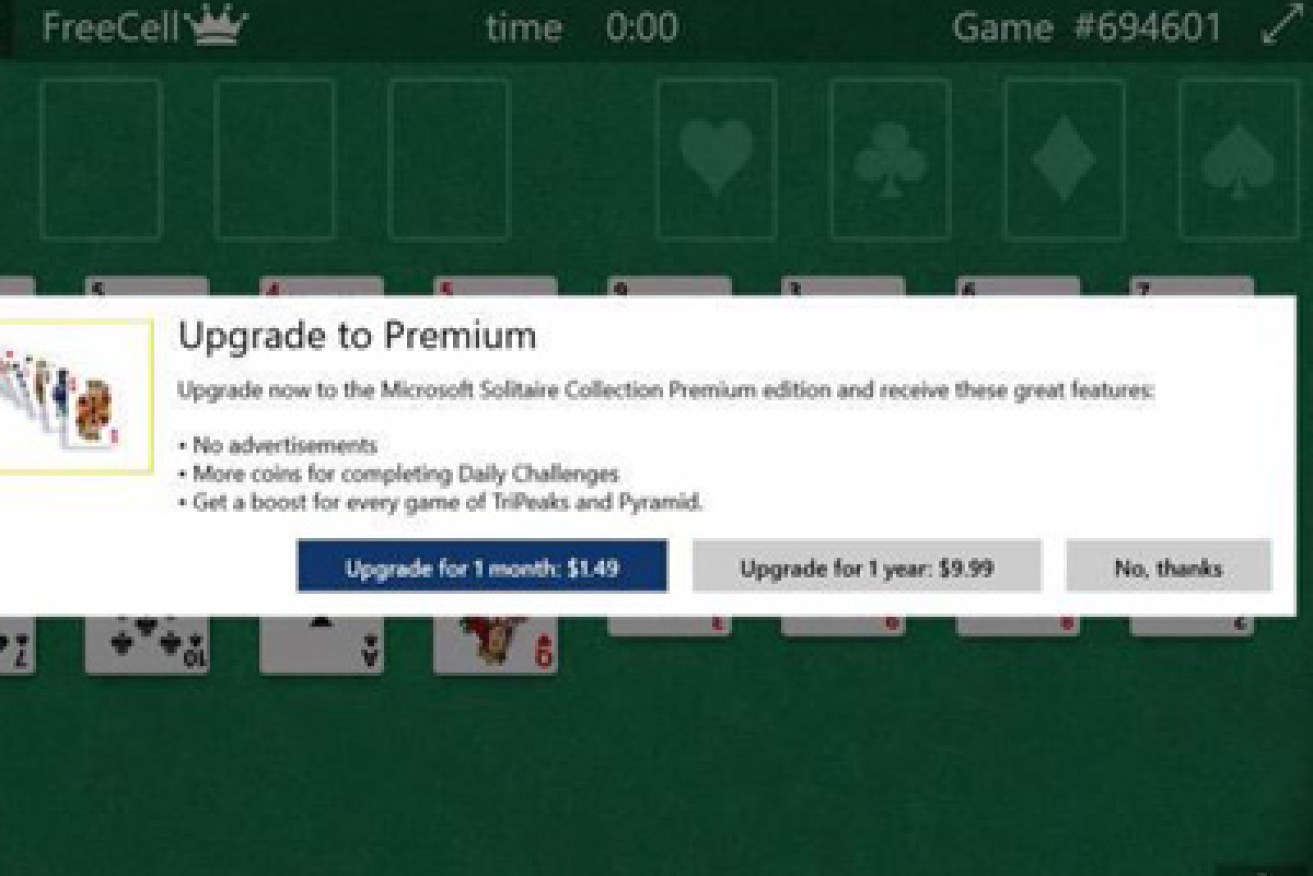 One of the most-played computer games in human history has been tainted by greed.
Since 1990, Solitaire has been a part of Microsoft's operating system Windows, offering countless hours of entertainment to bored office workers and multi-millions of dollars in lost productivity to their bosses.
Who can forget the thrill of matching red-on-black, black-on-red in rank order until, after numerous failed attempts, you manage to fill the top four boxes.
• Why you shouldn't upgrade to Windows 10
• Google 'admits defeat' of its social network
• Here's why the Apple Watch is 'not a dud'
Before blasting machine guns, wizard spells and fast cars, it was the cascading deck and triumphant soundtrack that gave the earliest gamers their adrenalin fix.
Its beauty was that it could be played an unlimited number of times free of charge (apart from the cost of the operating system) and – most importantly – entirely free of ads.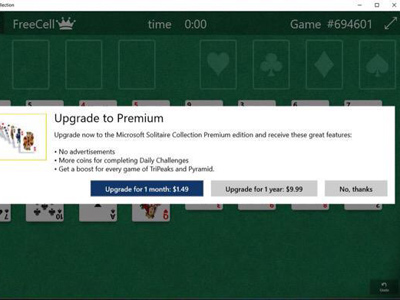 Solitaire players are now greeted by a request for cash. Photo: Andrew Cycle
Alas, no more.
Users of the new Windows 10 operating system, released in July, are now prompted to upgrade to the ad-free 'Premium Edition' when they open Solitaire.
This upgrade costs US$1.49 per month or US$9.99 per year — an eighth the price of a basic Netflix subscription.
If they refuse, players are subjected to full-screen ads that play for up to 30 seconds at a time, disabling the game for the duration.
Tech experts are aghast.
"It's penny pinching at its worst," tech futurist Morris Miselowski told The New Daily.
He thought it highly unlikely that large numbers of Windows 10 users would pay to upgrade. If true, the vast majority will be left to play through annoying ad breaks.
"It seems to be evidence that although Microsoft looks and sounds like they have finally gotten into the 21st century with their Windows software pricing, there is still this last-ditch attempt at trying to make money the good old-fashioned way," Mr Miselowski said.
The paid version of Solitare was first debuted in the previous operating system, Microsoft 8.1. But in this version, users had to navigate to the online app store to find it.
In Windows 10, the paid version comes with the operating system itself.
Another tech futurist, Shara Evans, told The New Daily it was "ridiculous" for the company to expect users to pay a "rip-off" fee for a game that has been freely available for decades.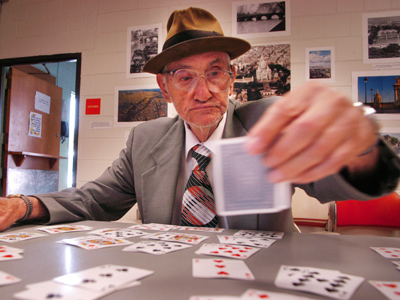 It might be time to pull out the old deck of cards. Photo: Getty
"Some people may be willing to pay a one-off fee to get rid of ads or get extra features, but it would be a rip-off to pay this on a monthly basis."
Subscription fees are a growing trend among software companies, who realise they can charge more in the long run, Ms Evans said.
"Over time [a monthly fee] ends up being much more expensive than a one-off purchase."
Consumer advocate Christopher Zinn said he would certainly not pay the fee, although he noted that at least users are not forced into subscribing.
"On one level you have the choice to trade up or not, but on another it seems a bizarre sense of trying to 'nickel and dime' the consumer – relatively trivial amounts for a relatively little, to my eyes, difference," he told The New Daily.
"I'll stick to the playing cards on this one."
Perhaps we should spare a thought for Wes Cherry, the Microsoft intern who coded the game all the way back in 1989.
He famously received no royalties for the game.
The New Daily has contacted Microsoft's Australian division for comment.
How do you feel about it? Email the author or comment below