Unplugging from social media is one of the most popular new year's resolutions, according to Twitter.
It's not surprising — technology was often a force for evil in 2014, from photo leaks to the Sony hacks.
This year, we can only hope technology trends are more beneficial to mankind, but with selfie sticks on the list, we could be out of luck.
• Serial podcast: Jay speaks for the first time
• How to resurrect your dead smartphone
• Review: we rate Instagram's five new filters
Equally as sad is the fact that the promise of hoverboards, robotic cars and time travel continues to elude us.
But don't get too disappointed. There are plenty of astoundingly clever gadgets and developments on the horizon in 2015.
Drones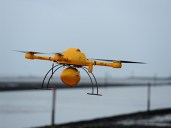 Drones are set to make their mark on the tech landscape in 2015.
Remote controlled flying drones are taking off "like absolute madness" and will "without a doubt" be a big part of the year's tech progress, technology futurist Shara Evans tells The New Daily.
"I'm starting to see them pop up everywhere," she says.
There are plenty of drone toys already on the market, but in the works are "non-frivolous" models that can deliver medical supplies to remote locations or fly in a defibrillator to emergency situations in large cities, she says.
One company is even building a wristband drone that can fly off, take a "selfie" of you and then return back to your hand.
A Windows resurgence
Plagued by a series of unpopular operating systems and the rise of rivals like Apple, Bill Gates' brainchild has lost its lustre.
The Windows 10 operating system, however, provides promise for a comeback.
Microsoft hasn't released a hugely popular operating system since Windows XP in 2001, but it's hoping the launch of Windows 10 will help it regain some of its former glory.
To signal that it really wants to break with its troubled past (don't mention Windows 8), the company skipped version 9 altogether, possibly to keep up with Apple's OS X.
The key to Microsoft's comeback could be one very simple, retro feature – the Start menu. Retired for years, the tech giant has caved to popular opinion and brought it back.
Wearable tech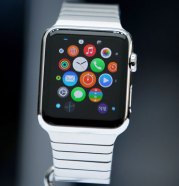 The Apple Watch
Ms Evans predicts that the "wearable trend" will gain some serious traction in 2015, thanks to the advent of the Apple Watch.
"When Apple starts moving into this space and you start to see flashy TV ads from the likes of Apple and others, it will start to get into that mass market mode," Ms Evans says.
"We still haven't seen the uptick yet in terms of sales, but I think it's going to slowly start to rise."
Few of these devices will branch out on their own, she predicts, but their popularity will grow in tandem with the now ubiquitous smartphone.
"I do believe that each of these gadgets will still be tethered to smart phones for quite a while as their primary gateway," Ms Evans says.
Smarter cars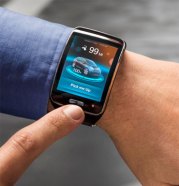 BMW's autopark and auto-pickup feature.
Cars will also get "smarter and smarter" in 2015, says Ms Evans.
They won't be able to fly or convert into a Transformer, but the trend towards automation will definitely continue. And they may be able to drive themselves, at least for a few minutes.
For example, BMW will debut a new self-parking feature in January. Drivers will be able to hop out, click a button on their smartphone app and send the car off to search for a parking spot.
Yep, that's right, the car will be able to drive and park itself without you in it. And then return to you once you're done shopping. Robot cars are one step closer.
"We will start to see more and more automated functions in cars that just creep in as extra little features," Ms Evans says.
Mobile payments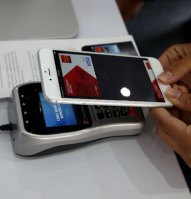 Apple Pay.
The dominance of credit and debit cards could take a hit in 2015 with the introduction of easier ways to pay with your smartphone, says Australian-based company Vix Technology.
The launch of Apple Pay on our shores in 2015 will mark the "tipping point" for the inevitable demise of credit cards, says group chief technology officer Christoph Rohland.
Apple Pay will allow those with the latest iPhones and iPads to pay with a swipe of their devices.
"Mobile payments will be ubiquitous. With the proliferation of smart phones, all forms of payment cards will become less acceptable for end users as more and more people rely on a single device to manage payments, information and connectivity," Mr Rohland says.
Once consumers see the speed and convenience of Apple Pay in action, and get comfortable with its security, the method will "take off" in the new year, he says.
Fitness 'explosion'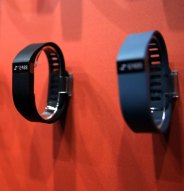 The Fitbit.
A recent survey by Acquity Group, an American digital agency, found that fitness devices – such as those sold by leading brand Fitbit – will be the most popular form of wearable tech for the next five years.
Already hugely popular, fitness apps will also "explode" in 2015, says Paul Lin, one of Australia's leading app developers.
"We are just beginning to see how apps can monitor our fitness, from pedometers to mapping out the best running route for the area we are in," says Mr Lin, CEO of Buuna.
"Fitness apps will only continue to improve and increase as people become more engaged in their health and well being, tracking every active movement and analysing the results," he says.
The QWERTY comeback
In an effort to revive its popularity in the early 2000s, BlackBerry is bringing back a feature long lost in the age of the iPhone – the full QWERTY keyboard.
BlackBerry's new Classic model is being billed as the "ultimate business phone" and features a four-row keyboard and classic trackpad.
Rather than the touch screen employed by the majority of smartphone models, the Classic will offer a more tactile experience reminsicent of a desktop computer.
The company, which posted a $200 million loss earlier this year, is endeavouring to embrace the retro tech trend in an effort to boost sales.
Whether it will work remains to be seen.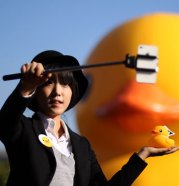 The selfie stick in action. Photo: Getty
Selfie sticks
Now officially dubbed 'The Wand of Narcissus', there is no stopping the worldwide domination of the selfie stick.
Designed to let you take a wider selfie, the Wifi-operated sticks are selling like crazy.
A salesman at a JB Hifi store in Melbourne, who declined to be named, tells The New Daily that his store sold more than 140 of the sticks in four days over Christmas.
Yep, 2015 has to be the year we reach peak self obsession levels.
The Cloud rains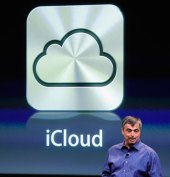 Cloud storage is likely to lose popularity. Photo: Getty
Tech expert Chris Giouris, owner and founder of CTG Technology in Melbourne, predicts that 2015 will mark the beginning of the end for Cloud hype.
Public confidence in external storage took a serious hit as a result of the flood of hacked celebrity photos in 2014, widely blamed on a vulnerability in Apple's iCloud.
"I think people will become more sceptical of the Cloud [in 2015]," Mr Giouris says.
"I'm seeing a lot of cloud storage and a lot of cloud providers go under. I'm seeing a lot more privacy and data sovereignty concerns raised," he says.