Cheap, beautiful and dangerous: the trouble with Thailand
The recent slaying of two young British backpackers on the holiday island of Koh Tao in southern Thailand was remarkable as much for the fact it garnered media coverage around the world as the extreme brutality of the murders themselves. The Thai media is heavily censored, and bad news stories about tourists are routinely suppressed.
• Travel nightmares: don't copy these Aussies overseas
• Slain tourists tried to fight off beach attackers
• How to travel five-star on a three-star budget
The chaotic investigation into the murders of David Miller, 24 and Hannah Witheridge, 23, included the release of two Thai men who refused to submit to DNA tests after police claimed that no Thai would commit such a crime. The police then attempted to pin the murder on two Myanmar migrant workers, who subsequently recanted their confessions amid claims they were tortured.
The failure of police to properly investigate the murders and multiple deaths of foreigners in Thailand, including many Australians, has been a scandal for years.
Accidental tourists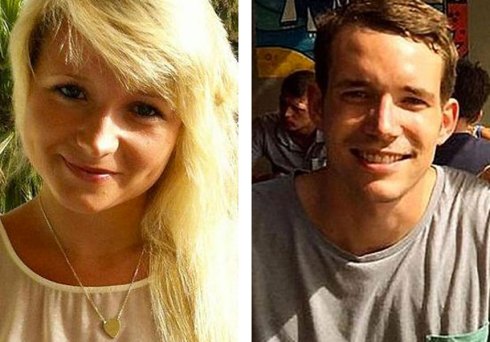 Hannah Witheridge and David Miller were murdered in Thailand.
This year, Thailand saw multiple train, bus, ferry, speedboat, motorbike and car accidents, murders, knifings, unexplained deaths, numerous suicides, diving accidents, robberies gone wrong, anonymous bodies washing up on the shores and a string of alcohol- and drug-related incidents.
All major diplomatic missions in Thailand have expressed concern to the Thai government over the welfare of their citizens while holidaying in the Kingdom.
Last year the Chinese Ambassador Guan Mu, following numerous drowning deaths of Chinese citizens, spoke for many when he declared the time for soft talk was over: "Police and Immigration do not have justice in their hearts. They are not moral and professional. Police are corrupt in Thailand. Some of them use their positions of power to rip off tourists.
"When it comes to fraud in Thailand, there is a lack of quality among investigators. There are food poisonings and accidents. Tourists' documents and money are stolen. Drownings happen too easily on Phuket and Samui. These problems need to be solved."
Full metal racket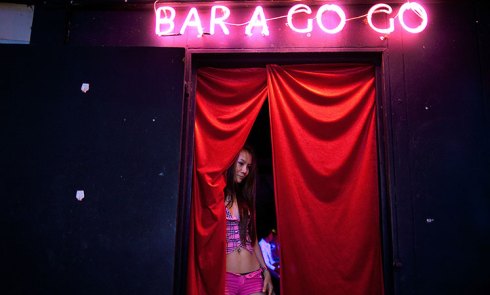 The country is known as one of the world's most relaxed theme parks.
Head of the European Union delegation in Thailand David Lipman said there was widespread concern within the diplomatic community over safety issues, and he did not believe the situation was improving. He also warned about numerous rackets perpetrated against tourists, often involving jet-skis and motorbikes and conducted with the complicity of local police: "We expect proper behaviour from public officials."
Australia's recently retired Honorary Consul, the outspoken Larry Cunningham, said more than 50 Australians a year were dying on the island of Phuket alone, with scams and criminality increasing to such an extent that expatriates wanted to leave. Young travellers, particularly "schoolies", were being targeted by gangs and local police.
Thailand's modern tourist industry began in the 1960s with great hopes it would showcase Thai culture to the world and be a source of national pride. Fast-forward half a century and rather than being famous for its cultural treasures the country is better known as one of the world's most relaxed tropical theme parks, with prostitution front and centre.
The daily robbing, bashing, drugging, extortion and murder of foreign tourists on Thai soil, along with numerous scandals involving unsafe facilities and well-established scams, has led to frequent predictions that Thailand's multi-billion dollar tourist industry will self-destruct. Instead tourist numbers more than doubled in the decade to 2014. Before the imposition of martial law across the country following a military coup in March, and a renewed spout of scandals within the industry, there were confident predictions tourist numbers would top 30 million in 2015.
The Land of Smiles?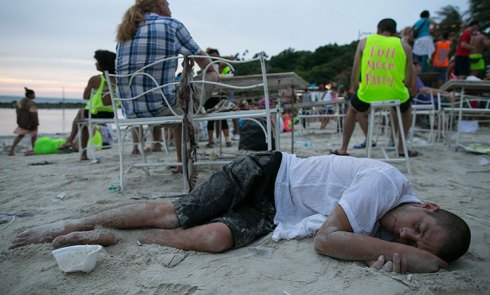 A reveller collapses after a night of partying.
The Land of Smiles was one of the most successful advertising slogans in history; and one of the most deceptive. Rather than welcoming strangers, most Thais are resentful of the foreigners thronging their towns and shores. Overwhelmed with millions of tourists, many of whom appear to save their worst behaviour for the streets and bars of Thailand, cries of "Mai Chop Farang", I don't like foreigners, and "Thailand is for Thais" can be heard from one end of the country to the other.
A cultural distaste for Westerners excuses the scams and violence so frequently perpetrated against them.
There are almost 400 British deaths in Thailand every year, the highest of anywhere outside Spain, which has 17 times the level of visitation and a large retirement population. More than 100 Swedes die in Thailand each year, some 40 per cent of them in road accidents, and again for them it is the most dangerous destination on Earth.
Australians love Thailand for many reasons; in particular because it has a reputation as an easy-going, welcoming country with, to put it politely, a vibrant nightlife. And it is cheap, with, as a rule of thumb, costs about a quarter of what they are here.
It is also, by a factor of two, the single most dangerous destination on earth for Australians: 122 of whom died there last year.
At a crossroads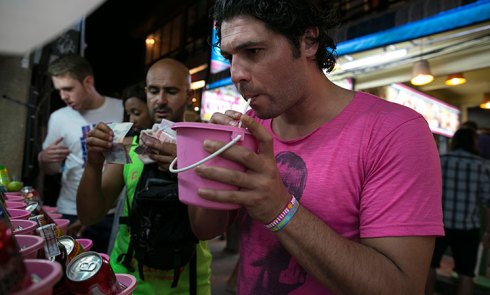 Thailand has buckets of problems.
The Australian Department of Foreign Affairs and Trade releases no analysis of the causes of death and no proper public warnings. Despite its $7.1-billion budget, a DFAT spokeswoman refused to provide the year-on-year death statistics for the past decade, claiming the provision of such data would be too great a strain on its resources. In effect the government is endangering the public by concealing the true nature of the situation on the ground.
Thailand is at a crossroads. It has a dying king and serious succession problems, weak democratic institutions, an economy slipping into recession, faces issues of corruption across many of its key services and is host to international crime syndicates, awash with despised foreigners and despite the relative calm since the military coup continues to drift perilously towards civil war.
The travelling public need to be able to make informed decisions on where to spend their hard-earned holiday money. Thailand's chronically mismanaged tourist industry has devolved into mayhem, and there is more than enough evidence that something has gone seriously awry.
John Stapleton worked as a general news reporter for The Sydney Morning Herald from 1986 to 1994 and for The Australian from 1994 to 2009. He has been visiting Thailand since the 1970s. His book Thailand: Deadly Destination will be available later this month.