Workers see productivity boost after switching jobs, but non-compete clauses hurt mobility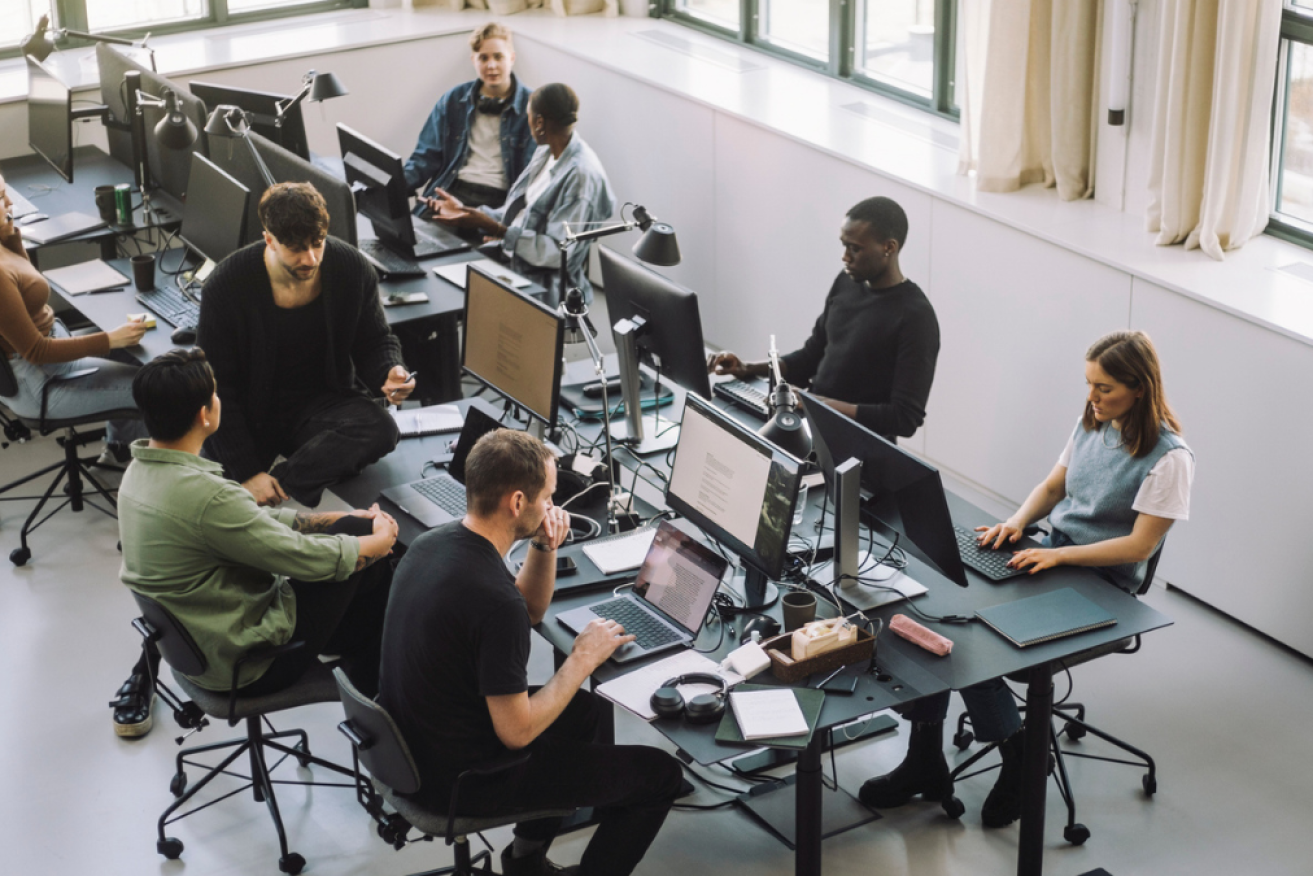 New research finds that workers are more productive when they switch jobs. Photo: Getty
Enabling workers to switch jobs more frequently could boost the economy, according to new research that suggests non-compete clauses in corporate contracts are limiting productivity.
Analysis published on Monday by think tank e61 Institute uncovered a "concerning decline" in the number of workers moving to more productive firms when they switch jobs.
Workers who switch jobs are on average 13 per cent more productive than the firms they leave, the research showed.
The difference is even bigger for younger workers aged 25 to 34, who are on average 14.6 per cent more productive after switching jobs.
But worryingly, research author Jack Buckley said that the productivity bump from switching jobs has become weaker over the past decade, presenting yet another challenge for the economy.
"Our research also found that the share of workers moving to more productive firms when they switch jobs is falling," he said.
"So while workers still tend to move to more productive firms, this tendency is weakening. Between 2003 and 2006 the share of workers that moved to higher-performing firms was 54.2 per cent, falling to 52.8 per cent between 2015 and 2019."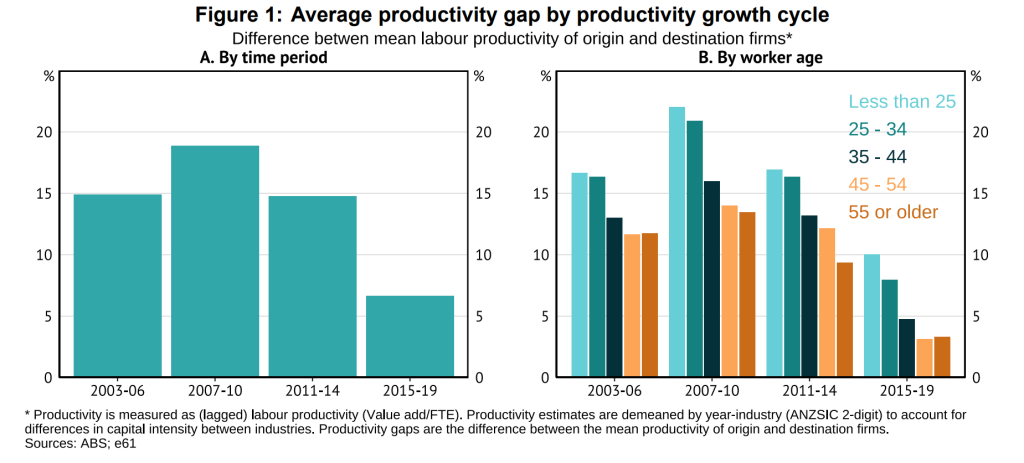 Source: E61 (click to enlarge).
The findings come amid renewed debate about strategies for lifting Australia's poor productivity growth, which has been particularly weak since COVID-19 and according to leading experts risks condemning workers to an ongoing stagnation in their living standards.
Productivity growth has averaged just 1.1 per cent over the past decade, which is the worst rate seen since the middle of the 20th century, and there have been few indications that it has begun to pick up post-COVID, which also presents a headache for the RBA in curbing inflation.
The federal government has commissioned a competition review to canvass strategies for lifting productivity, including possible reforms that could drive up economic output per hour worked.
E61 institute chief Michael Brennan, the former head of the Productivity Commission, said that helping workers switch jobs to more productive firms could be a way to help boost productivity.
"When a worker moves to a more productive firm, this can make them more productive if the higher productivity of their new firm is due to better management, firm-specific know-how or more and better use of capital (computers, machines, etc.)," he said.
"If this is the case, then workers switching to more productive firms could help boost aggregate productivity."
But Brennan took aim at non-compete clauses in corporate contracts, which have been on the rise in recent years and can prevent workers from taking their labour to more productive places.
E61 research has found non-compete clauses in contracts have now become a default in many private job contracts, with at least one in five workers subject to such a restriction in their roles.
Such clauses are now present in outward consumer-facing jobs that aren't typically expected, including childcare workers and yoga instructors, in addition to executive roles in law and finance.
Brennan said non-compete clauses could be a lever available to governments to decrease barriers for workers looking to switch jobs to better performing, and more productive, firms.
"Better regulation to limit the use of non-compete clauses would remove one growing source of friction. Reforms to occupational licensing and the replacement of stamp duty taxes with a land tax could also help create a more mobile labour force," he said.
Topics:
e61 Institute,
Economy,
job hopping,
Productivity,
workers