Scams cost Aussies $3 billion last year, with calls for co-ordinated response to scourge
Scams cost the Australian community $3 billion last year with investment-related scams causing the greatest loss, according to the Australian Competition and Consumer Commission.
About half of all the funds lost went through investment schemes followed by remote access schemes, which occur when a person is contacted and convinced to allow access to their computer.
That category lost $229 million, followed by payment redirection scams ($224 million).
But it was the "hi mum" and the unpaid toll text messages that were the most common. Reports of these two phishing scams rose 469 per cent.
The "hi mum" scam pretended to be a text from a son or daughter who had lost or broken their phone and a new number was given which would lure a person into handing over money to help pay a bill or because they had been locked out of their accounts.
The ACCC said that in the weeks following the high-profile data breaches of major organisations there were hundreds of calls to Scamwatch, including reports of scammers impersonating government departments and businesses.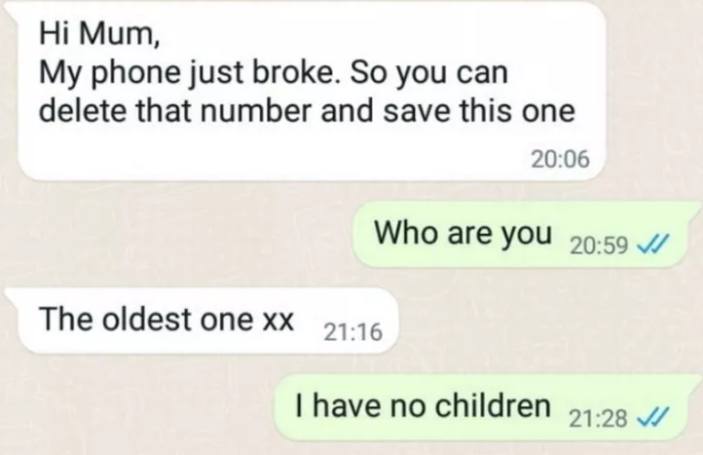 A typical scam message which netted about $24 million last year. Image: Chronicle Live UK
The ACCC's Scamwatch and other agencies received about half a million reports of scams during the year, but the ACCC said about 30 per cent of people never report a scam so the numbers were likely much higher.
ACCC deputy chair Catriona Lowe said that as scammers become increasingly more sophisticated in their tactics, it was clear a co-ordinated response across government, law enforcement and the private sector was essential to combat scams more effectively.
The average size of the loss reported to Scamwatch was just under $20,000, an increase of about 50 per cent, which the ACCC said was due to the increasingly sophisticated nature of the scams.
The ACCC reported significantly lower number of scams.
"We have seen alarming new tactics emerge which make scams incredibly difficult to detect. This includes everything from impersonating official phone numbers, email addresses and websites of legitimate organisations to scam texts that appear in the same conversation thread as genuine messages," Ms Lowe said.
"There was an explosion of reported losses to phishing scams in the past year, such as the 'hi mum" and the toll/Linkt text scams which skyrocketed 469 per cent to $24.6 million in 2022."
Shift to text and social media
The most common method has shifted from telephone calls to text messages and social media.
Scam phone calls fell by 56 per cent but still resulted in the highest losses of $141 million. Losses accrued through social media reached $80 million, a 40 per cent increase.
Cryptocurrency has become an increasingly popular way for scammers to receive their funds. It rose 162 per cent as a payment method.
The people who lost through this method of payment were most likely to have been contacted through social media or a mobile app.
Older people (aged 65 years and above) were more likely to lose than any other demographic, but people aged between 35 and 44 reported the highest losses of $91 million, an increase of 90 per cent.
"Unfortunately, there are still significant gaps between and within the key sectors – banks, telcos and digital platforms; and between regulators that scammers exploit to steal money from customers. So we would like to see initiatives that apply across the sectors, knowing that scammers will target the weakest link," Ms Lowe said.
"While some banks have made recent positive steps to protect their customers, we would welcome uniform measures across the sector, similar to the UK's Confirmation of Payee, which matches an account number to the intended recipient across all banks."
This article originally appeared on InQueensland. 
Topics:
ACCC,
phishing,
phone scam,
scams,
Scamwatch