Lambs of God star Essie Davis' makeunder for the gothic series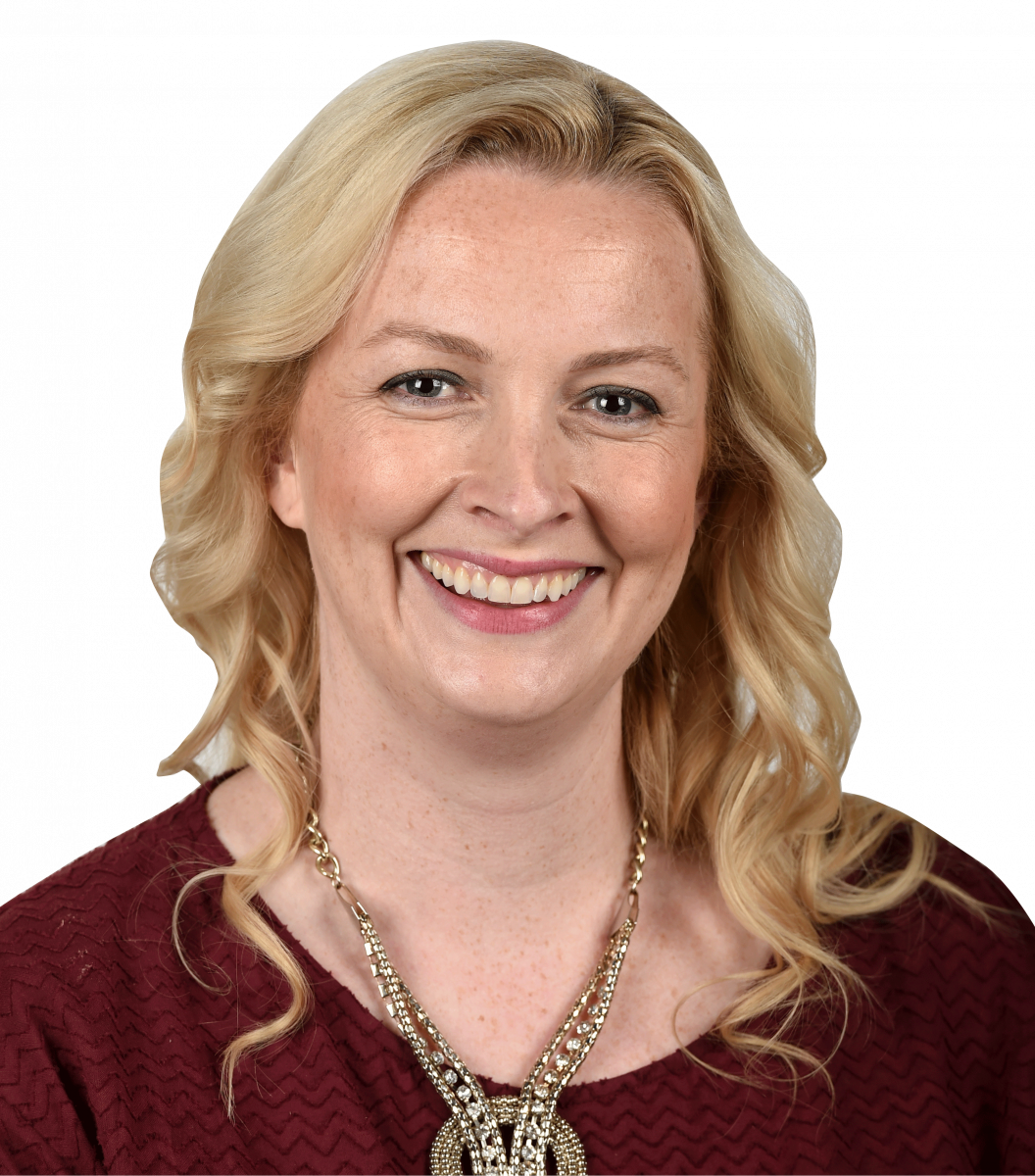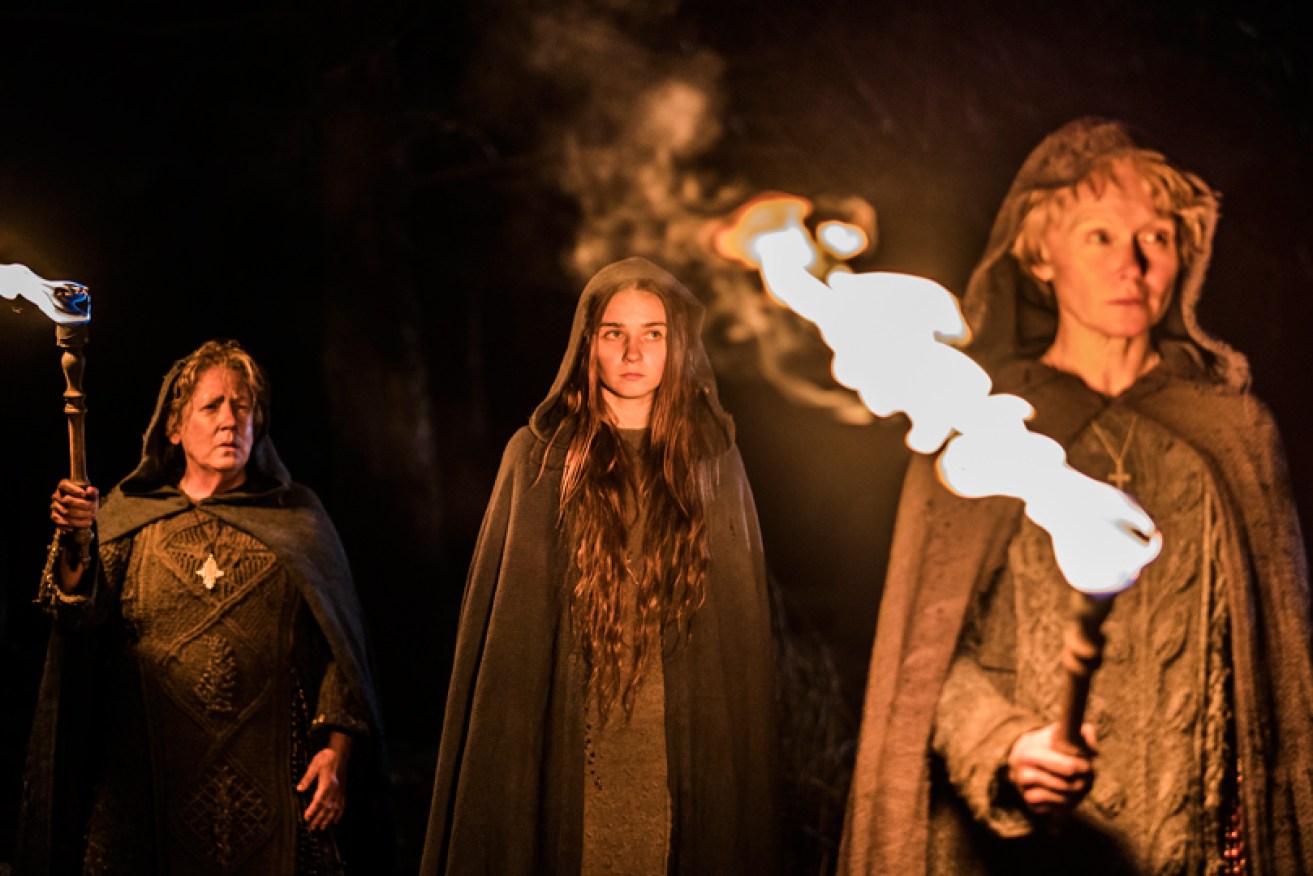 "We were all very different people," says Essie Davis (right) of Lambs of God co-stars Ann Dowd and Jessica Barden. Photo: Foxtel
A weather-beaten woman with a hatchet hairstyle looks out to sea on a remote clifftop. She could be almost anyone, and there's nothing in her wild surrounds to reveal where, or even when, she is.
Upon closer inspection, she is unmistakably Essie Davis – the razor-sharp jawline and cheekbones give her away – but a far more washed-out and drab version of the star we've come to expect from Miss Fisher's Murder Mysteries.
Davis, 49, laughs about the intense makeunder that took hours to achieve for each day of shooting Foxtel's new drama, Lambs of God, filmed on remote locations from the Blue Mountains to the NSW south coast and Tasmania.
"In my daily life I look so extremely glamorous," the Game of Thrones actor tells The New Daily jokingly.
"It was actually really fun. We were just in thermals and giant jumpers and mud, and knitting away in every break we had so that we all looked really good at knitting.
"I was knitting and talking on set, knitting and talking off set. It was a very holistic time actually."
Davis co-stars with Ann Dowd, 63 (Aunt Lydia in The Handmaid's Tale, The Leftovers), Jessica Barden, 26 (Penny Dreadful) and Sam Reid, 32, (Bloom) in Lambs of God, an intense story about three nuns living an almost medieval existence in a tumbledown monastery.
To look the part, Davis's appearance "was a work in progress", she says.
"We were all going to cut our hair off, but I had to keep it for The True History of the Kelly Gang, so we had to get a wig for my character, and for Ann and Jess's as well," she says.
The script inferred Davis's character Sister Iphigenia can't see very well but isn't blind, so "we experimented a lot" with contact lenses in various colours.
"And then my teeth. I've always had great teeth and we didn't want those to be so great." she says.
"It was just making fake teeth that weren't too distracting or comical but were enough … they don't have toothpaste or mirrors. They have no vanity.
"Then we let all of our body hair grow, because originally there was a bathing scene where we needed underarm hair and hairy legs.
"And living in extreme weather conditions, out in the sun and the wind and the rain, we needed to be covered in sunspots and wind damage.
"It's all about a lack of vanity, the serving of others and lack of self-awareness."
In Lambs of God, the sisters' peaceful existence is disturbed by the arrival of the ambitious, arrogant (and undeniably handsome) Father Ignatius (Reid), who has come to inspect the church-owned property and ends up staying longer than planned.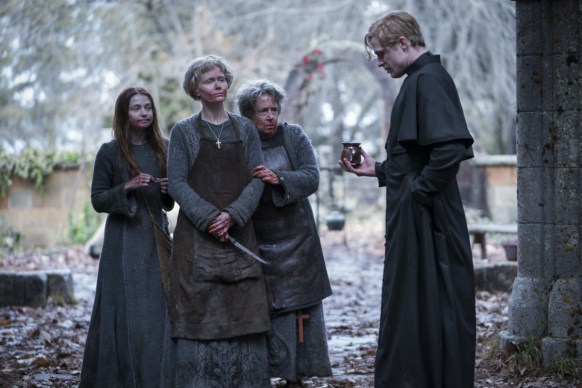 Lambs of God's Jessica Barden, Essie Davis, Ann Dowd and Sam Reid. Photo: Foxtel
He provides the only clue to the era – a broken mobile phone – letting viewers know it's 1999 on this remote island.
Davis says Father Ignatius represents the modern-day church, bullish and patriarchal.
"It very much speaks of today, of cover-ups, what the church is trying to cover up, the money that needs to be made and what they're prepared to do to silence people," she says.
"Also the brutality of man, and of power, and the sanctuary of sisterhood and monastery, of caring for each other and the Earth, actually caring for the earth, giving back to the planet."
In addition to its cast, the four-part series has impeccable pedigree, written by Sarah Lambert (Love Child) and directed by Jeffrey Walker (Modern Family, Jack Irish).
"We all got on very well," Davis says.
"Ann is probably the most loving person I've ever met, the sweetest and most generous – nothing at all like her character. Jess is a little firecracker."
Because the story is so "strange, exotic and rambling" the cast "were all very connected in trying to hold onto each other", Davis says.
"It was a nice, odd, beautiful, connected bunch of people all dressed up, having knitting lessons, and spinning lessons, and then sitting and knitting and spinning with our feet in Ugg boots trying to keep warm."
Lambs of God streams on Foxtel from July 21