One of Lisa Marie Presley's ex-husbands tried desperately to revive the singer-songwriter when she was found unresponsive at home, it has been reported.
The only child of Elvis was discovered by the housekeeper at her property in Calabasas, Los Angeles, after suffering a cardiac arrest, according to celebrity news website TMZ.
Danny Keough, to whom she was married for six years, was at the house at the time and reportedly performed CPR in a desperate attempt to save her.
He kept up the first aid until paramedics arrived and took over.
"They administered at least one dose of epinephrine during resuscitation efforts," TMZ reported.
"We're told EMTs were able to regain a pulse before she was transported to the hospital."
Lisa Marie was pronounced dead at the LA area hospital.
She was married to Keough from 1988 to 1996 and they had two children.
She was also married to Michael Lockwood, Nicolas Cage and Michael Jackson.
Presley's death on Thursday at age 54 was confirmed by her mother, Priscilla.
"It is with a heavy heart that I must share the devastating news that my beautiful daughter Lisa Marie has left us," Priscilla Presley said in a statement.
"She was the most passionate, strong and loving woman I have ever known."
Lisa Marie's untimely death sent shockwaves through Hollywood as celebrities took to social media in mourning.
Tom Hanks, who appeared in Baz Luhrmann's 2022 movie Elvis, country singer LeAnn Rimes and rock star Pink were among the first to pay tribute.
Actor John Travolta wrote on Instagram: "Lisa baby girl, I'm so sorry. I'll miss you but I know I'll see you again."
'Brooding charisma'
Presley, the only child of Elvis and Priscilla Presley, shared her father's brooding charisma — the hooded eyes, the insolent smile, the low, sultry voice — and followed him professionally, releasing her own rock albums in the 2000s.
She even formed direct musical ties with her father, joining her voice to such Elvis recordings as In the Ghetto and Don't Cry Daddy, a mournful ballad that had reminded him of the early death of his mother, Gladys.
"It's been all my life," she told the Associated Press in 2012, speaking of her father's influence.
"It's not something that I now listen to and it's different. Although I might listen closer. I remain consistent on the fact that I've always been an admirer. He's always influenced me."
Her birth, nine months after her parents' wedding, was international news and her background was rarely far from her mind.
With the release last year of Baz Luhrmann's movie Elvis, Lisa Marie and Priscilla Presley had been attending award shows alongside stars from the film.
She was at the Golden Globes on Tuesday, celebrating Austin Butler's award for playing her father. On January 8, she was in Memphis at Graceland — the mansion where Elvis lived and died — to celebrate her father's birth anniversary.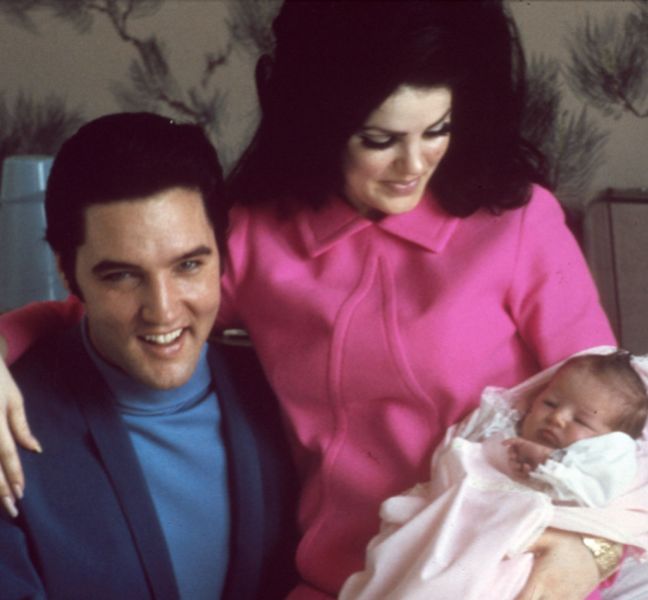 Elvis Presley and wife Priscilla with four-day-old Lisa Marie in in 1968. Photo: Getty
Presley lived with her mother in California after her parents split in 1973. She recalled early memories of her dad during her visits to Graceland, riding golf carts through the neighbourhood and seeing his daily entrances down the stairs.
Elvis Presley died in August 1977, when he was 42 and she nine years old. Lisa Marie was staying at Graceland and recalled him kissing her goodnight hours before he collapsed. When she next saw him, the following day, he was lying face down in the bathroom.
"I just had a feeling," she told Rolling Stone in 2003. "He wasn't doing well. All I know is I had it (a feeling), and it happened. I was obsessed with death at a very early age."
She would later make headlines of her own. Struggles with drugs and some very public marriages. Her four husbands included Michael Jackson and Nicolas Cage.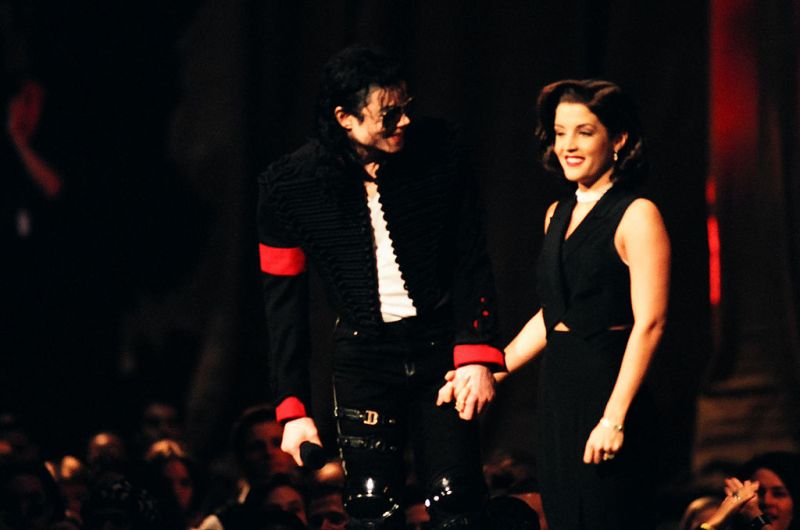 Lisa Marie Presley was married to Michael Jackson. Photo: Getty
Jackson and Presley were married in the Dominican Republic in 1994, but the marriage ended two years later and was defined by awkward public appearances, including an unexpected kiss from Jackson during the MTV Video Music Awards and a joint TV interview in which she defended him against allegations of child sex abuse.
Cage filed for divorce after only four months of marriage in 2002.
"I had to sort of run into many walls and trees," she told the AP in 2012. "… it was a growing process … It was just out in front of everybody all the time."
Lisa Marie became involved in numerous humanitarian causes, from anti-poverty programs through the Elvis Presley Charitable Foundation to relief efforts after Hurricane Katrina.
Presley had two children, actor Riley Keough and Benjamin Keough, with her former husband Danny Keough. She also had twin daughters with ex-husband Michael Lockwood.
Benjamin Keough died by suicide in 2020 at age 27. Presley was vocal about her grief, writing in an essay last August that she had "been living in the horrific reality of its unrelenting grips since my son's death two years ago".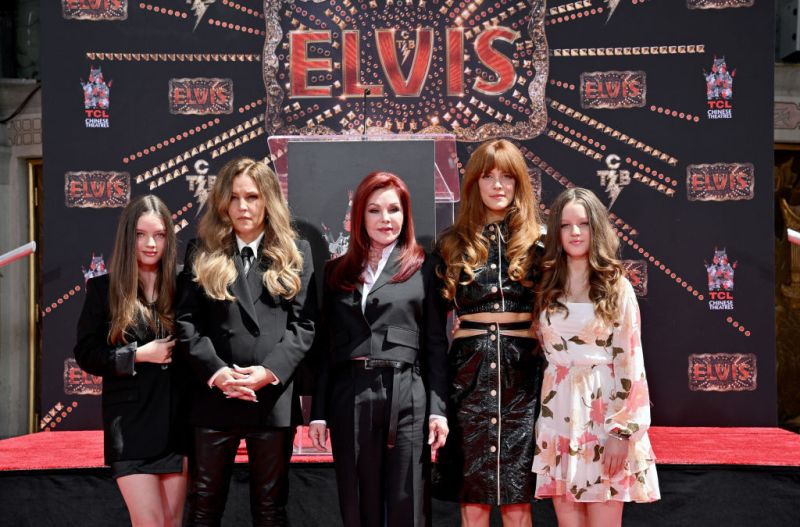 Lisa Marie with her children Harper Vivienne Ann Lockwood, Riley Keough, and Finley Aaron Love Lockwood and mum Priscilla in June last year. Photo: Getty
Lisa Marie was the sole heir of the Elvis Presley Trust. Along with Elvis Presley Enterprises, the trust managed Graceland and other assets until she sold her majority interest in 2005. She retained ownership of Graceland. Her son is buried there, along with her father and other members of the Presley family.
Lisa Marie was a Scientologist but later left the religion.
After her first album To Whom It May Concern, in 2003, some fans went to see her perform just out of curiosity, she told the AP in 2005.
"First I had to overcome a pre-speculated idea of me," she said about becoming a singer-songwriter.
"I had to sort of burst through that and introduce myself, and that was the first hurdle, and then now sing in front of everybody, and then that was the second one, and I'm the offspring of — you know, who I'm the offspring of — had a few hurdles to get through, no doubt about it.
"But the scales never tipped in the other direction too much."