Inside David Bowie's deeply private home life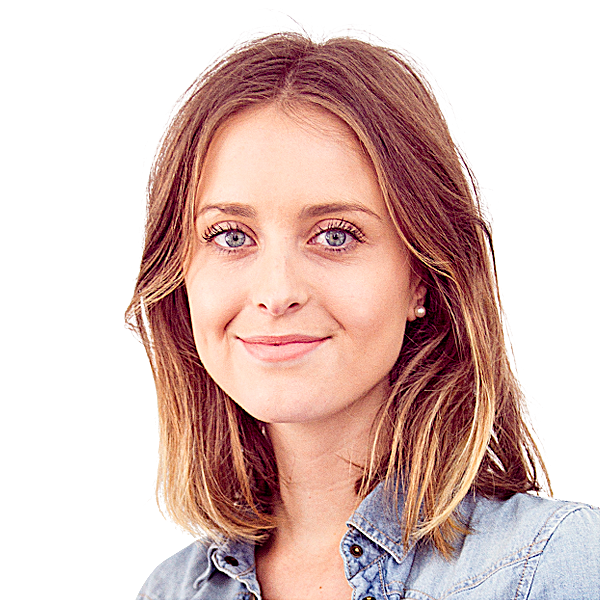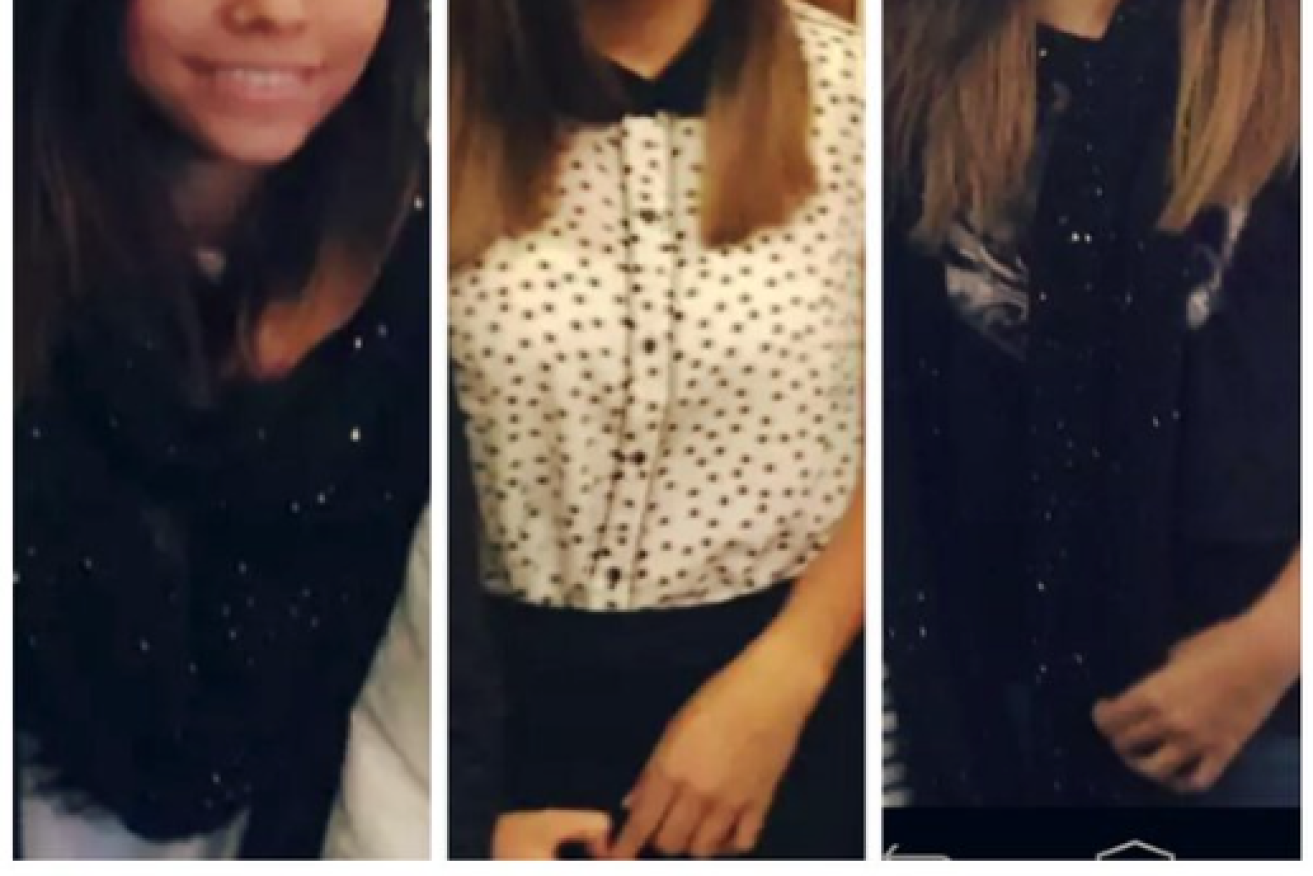 To the public, the late David Bowie was a collection of colourful memories and iconic music – a pioneer whose quest to be unabashedly unique inspired many to do the same.
When news broke of his passing at the age of 69 after a battle with cancer, fans grieved a man who had come to represent creativity, exploration and individuality in a way modern musicians never could.
However, there are four people mourning the loss on a much more private level – Bowie's ex-wife Angela Bowie, his two children Duncan and Alexandria, and the love of his life, wife Iman.
• Gallery: the life and times of David Bowie in pictures
• David Bowie's most iconic moments
• 'I'll be free': David Bowie's parting gift to fans
• Legendary artist David Bowie dead at 69
• Bowie's ex-wife stays on TV show

Together, they are some of the few people who gained an insight into the part of Bowie he steadfastly kept private: his home life.
He protected this so fiercely that not even his most loyal fans knew about the 18-month cancer battle that eventually took his life.
Here's what we know about the man behind the music.
A failed first marriage
Bowie's first marriage to Cypriot-American model Angela Bowie ended in divorce and estrangement.
Angela, or 'Angie' as she is known, was only 19 when she met Bowie in London in 1969. The pair were married one year later and a year after that welcomed their son, Duncan Zowie Haywood Jones.
Following their divorce in 1980, Angela has said she lost contact with both Bowie and Duncan and hinted at her parents' strained relationship with her former husband.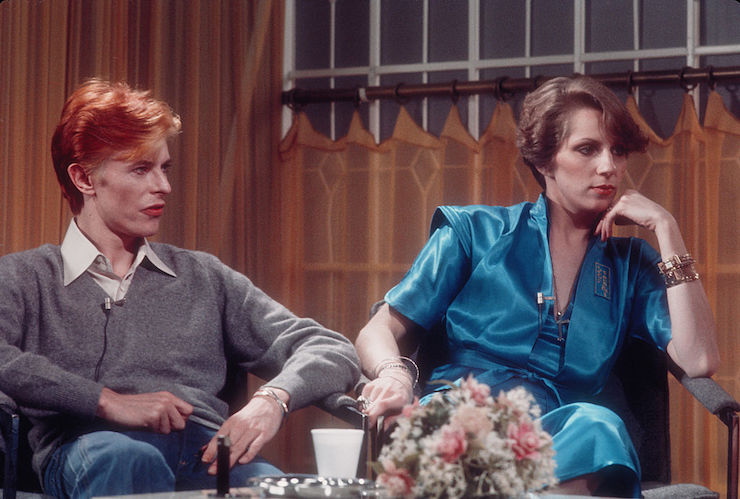 David and Angela Bowie on Good Morning America in 1976. Photo: Getty
"I haven't heard from Zowie, or Duncan as he calls himself now, for five years," she told The Guardian in 2010.
"He emailed me but the relationship didn't progress and I think reconciliation is unlikely. He is nearly 40, and if he didn't bother to find me till now it's a bit late. There is nothing to say.
"My father was disgusted with David for treating me so badly that he cut Zowie out of an educational fund he'd set up for my children. Both my parents adored Zowie and Stacia, but as far as my parents were concerned they didn't have Duncan – or Zowie – as a grandson because David made it quite obvious that he thought we were not important enough to be given any consideration."
Angie has since written two autobiographies detailing the drug-fuelled days of her marriage to Bowie.
She is currently competing on the UK version of Celebrity Big Brother and learned of Bowie's death during filming for the show.
"I haven't seen him in so many years I can't make a big drama about it … but I feel an era has ended, it's so very sad," she said of his passing.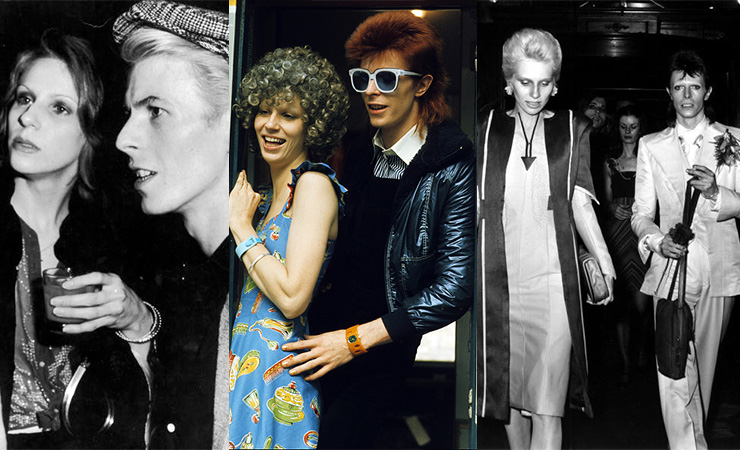 David and Angela Bowie were married for 10 years. Photo: Getty
A 25-year romance
Bowie found love again in 1990 when he locked eyes with Somali-born model Iman.
"My attraction to her was immediate and all-encompassing. I couldn't sleep for the excitement of our first date," he told HELLO! magazine of his wife.
"That she would be my wife, in my head, was a done deal. I'd never gone after anything in my life with such passion in all my life. I just knew she was the one."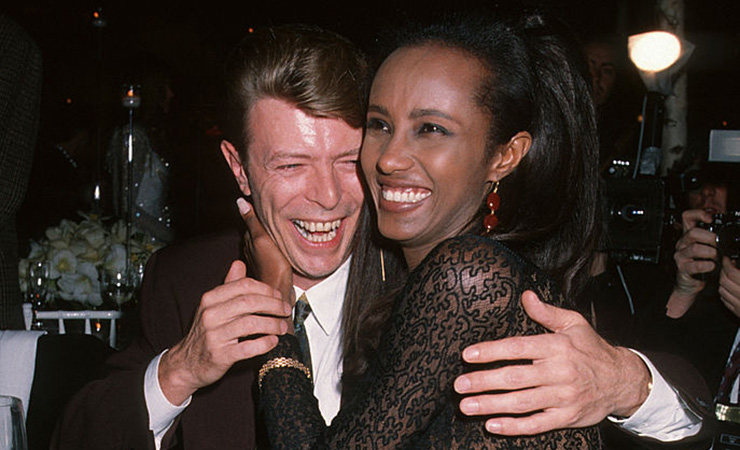 Bowie and Iman shortly after meeting in 1990. Photo: Getty
For Iman, the attraction was not quite as instantaneous.
"I was not ready for a relationship. Definitely, I didn't want to get into a relationship with somebody like him." she told The Guardian in 2013.
"But as I always said: I fell in love with David Jones. I did not fall in love with David Bowie. Bowie is just a persona. He's a singer, an entertainer. David Jones is a man I met."
Bowie soon won Iman over with his down-to-earth nature and penchant for romantic gestures.
"His actions spoke louder [than words]," she told The Guardian.
"We were dating for two weeks and I was coming from Paris and I got to L.A. at the airport and the doors open to the plane and I come out and I see all these people taking a picture of somebody. And he was standing there, flowers in hand, no security … He didn't care if anyone saw."
"I remember once we went out to dinner and the laces on my trainers came undone and David was down on his knees in the middle of the street, tying them for me. I thought to myself, 'This one's a keeper'."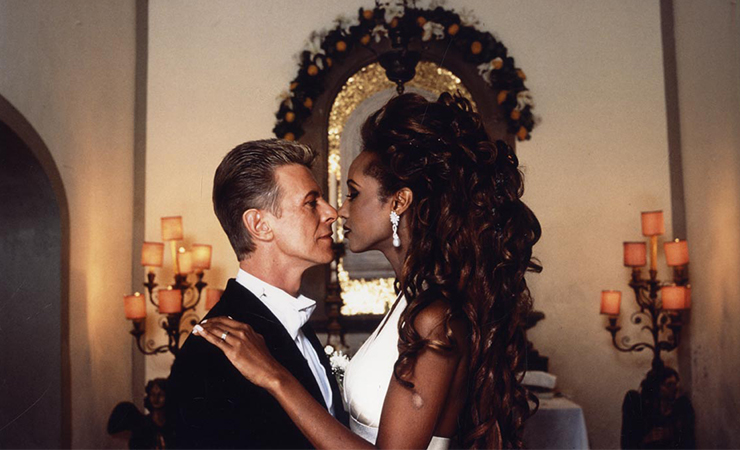 Bowie and Iman on their wedding day. Photo: HELLO! Magazine
Just as Bowie had predicted, the pair wed in a lavish ceremony in Tuscany in April 1992.
In an interview with friend Naomi Campbell for Interview magazine, Iman recalled how it rained on her wedding day.
"They said 'Oh you shouldn't complain, you're going to be married for 50 years, it's going to be happy'. And they were right."
Bowie, who rarely spoke about his marriage publicly, once joked: "You would think that a rock star being married to a supermodel would be one of the greatest things in the world. It is."
"David doesn't fight," Iman told Harper's Bazaar in 2010. "He is English, so he just stays quiet. I'm the screamer. Then he always makes me laugh. It's like cabaret. I keep him entertained too.
"I still fancy him – totally! – after all these years."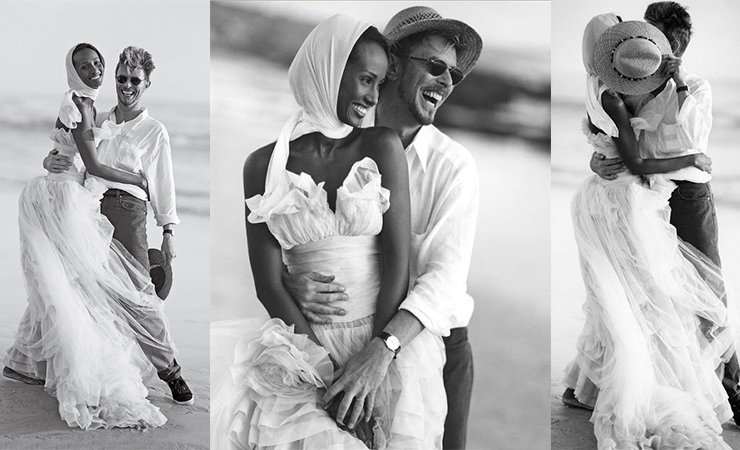 Bowie and Iman pose for Vogue magazine.
Two beloved children
By all accounts, Bowie was a loyal, loving and fiercely protective father to his two children – 44-year-old Duncan Jones and 15-year-old Alexandria Zahra Jones.
Duncan, who is now a film director, producer and screenwriter, took to Twitter to pay tribute to his father as news of his passing broke.
"Very sorry and sad to say it's true. I'll be offline for a while. Love to all," he wrote, sharing a photo of his father and himself as a baby.
In the weeks leading up to Bowie's death, his son had been a vocal supporter of his newly released album, Blackstar.
"So proud! Heart bursting for you. :)" he wrote on Twitter on January 11, sharing a photo of his father's album cover.
In a 2011 interview with the Daily Mail, Duncan said his father had tried to get him into music but had failed.
"He really, really wanted me to learn an instrument … He tried to get me to learn the drums but I didn't want to. The saxophone? No. Piano? No. Guitar – no thanks! Bless him," he said.
"Dad really enjoyed introducing me to new things in literature, music and films.
"He'd say, 'You'll love this! It's amazing – you haven't seen anything like this before'. I was eight when he showed me A Clockwork Orange. I remember he was sitting with me on the sofa with his arm around me, explaining everything."
Duncan, who said his father's work in film was part of the reason he became a director, said he and Bowie stayed close despite often being far from each other physically.
"We Skype every weekend and whenever I get the chance to go to New York we meet up. He doesn't get to see an early cut of my films. He sees it when it's finished. But he's very supportive and always has been.
"He's just a wonderful guy and father … He gave me the time and the support to find my feet and the confidence to do what I do.'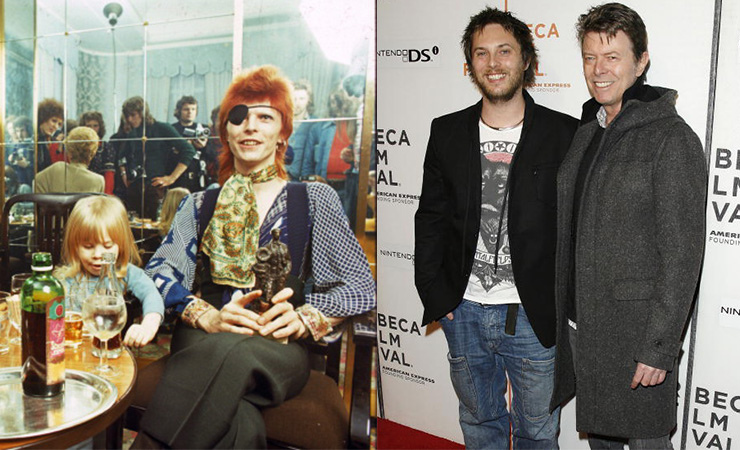 Bowie with his son, Duncan, in 1974 (left) and in 2009. Photo: Getty
Bowie became a parent for the second time in August 2000, when he welcomed daughter Alexandria with wife Iman.
Speaking about her husband's parenting technique, Iman told Interview magazine he was a softie.
"David is measured, sensible yet at the same time fun and relaxed with Lexi. I'm the disciplinarian!" she explained.
After Alexandria – or Lexi as she is nicknamed – was born, the couple gave a rare interview to HELLO! magazine, accompanied by photos of them at home with their newborn.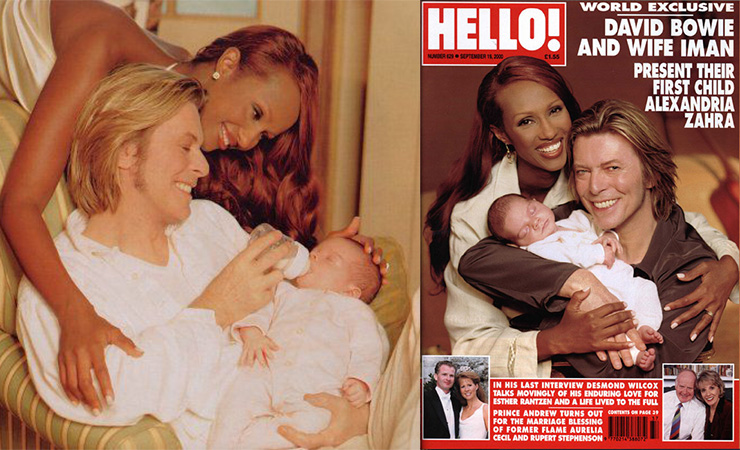 Bowie and Iman with newborn Alexandria in 2000. Photo: HELLO! magazine
Lexi, who is now 15, has rarely been photographed since and has lived a relatively normal life out of the spotlight.
Her father didn't discuss her life with the media, but revealed in 2002 he was "very happy".
"I'm frighteningly happy," he told the New York Daily News.
"I don't see ever wanting to change things in my personal life. Iman and I are very happy, and we have the most fabulous baby."
No doubt their father's immense love and talent will live on in Alexandria and Duncan, and in their mother.
Iman has remained relatively silent on the death of her husband of 23 years, except to post an Instagram quote that summed up the thoughts of many struggling to come to terms with the loss.
"Sometimes you will never know the true value of a moment until it becomes a memory," the quote read.
Vale Bowie.