'I acknowledge there were issues': Barnaby Joyce tells some, not all, in new book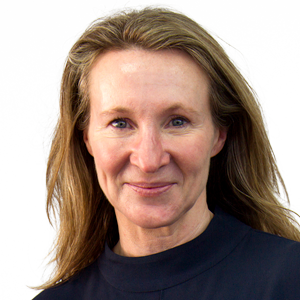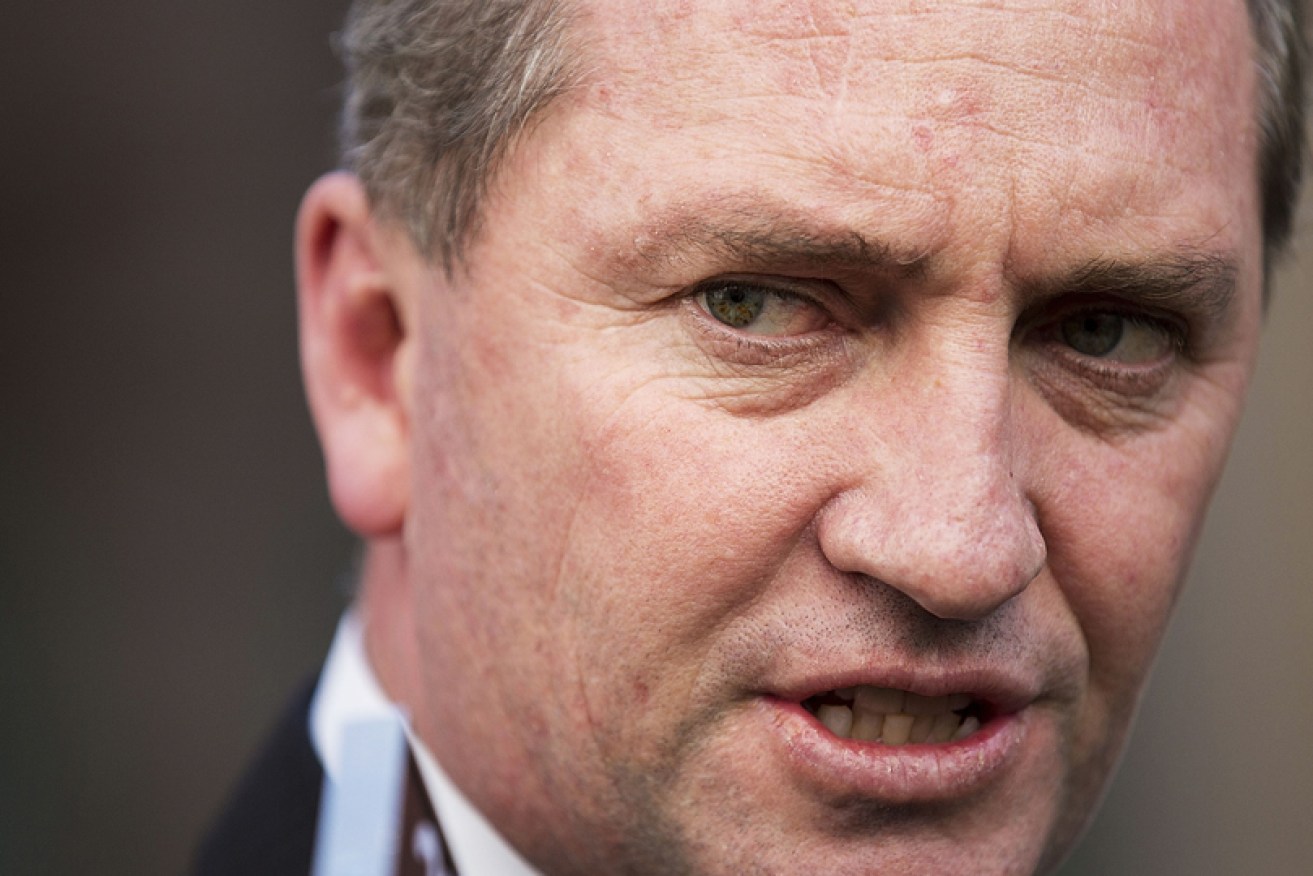 Nationals Senator Barnaby Joyce speaks to the media at Parliament House in June 2013. Photo: Getty
Barnaby Joyce says revelations he chased women while drinking heavily and suffering depression and suicidal thoughts won't surprise "anybody" who knows him well, including his estranged wife Natalie.
"People close to you know your life better than anybody else," the former deputy prime minister told The New Daily via phone from Sydney on Wednesday.
The public admissions of his "salacious" private life are "a small part" of Mr Joyce's autobiography Weatherboard & Iron: Politics, the bush and me, which he is spruiking during a packed three days of publicity this week.
They are at odds with the morally-confident image Mr Joyce projected for decades, but he shies away from agreeing he lived a double life.
"Look, that might be a bit over the top," said Mr Joyce, 51, who said the isolation of political life in Canberra saw him stray.
"My marriage came apart. That's self evident," he said, explaining that "the higher you go in any form of politics, the lonelier you get. The circle of friends becomes smaller.
"I acknowledge there were issues with depression and they were serious enough to see a psychiatrist and evident enough for him to make a diagnosis."
Mr Joyce revealed that at his lowest ebb, he would visit a "sacred rock" behind where he used to live. "I'd stop there and pray," he told The New Daily.
At one point, he just wanted to go away and die, he says in the book.
"When I was at home I was a lie, and when I was in Canberra I was ashamed," he wrote, calling his mental health issues "a half-crazed cattle dog biting everything that came near the yard".
In the past 12 months, Mr Joyce's private world has been one out of the box: a secret affair to pregnant former staffer Vikki Campion revealed; the bust up of his long marriage; the apparent estrangement from his family; the birth of a baby son.
His professional travails have also been extraordinary.
Criticised by his own party, he resigned from the deputy prime ministership in February after a public excoriation by Prime Minister Malcolm Turnbull.
Asked if it's liberating to have his skeletons out of the closet by his own hand, Mr Joyce agreed there's a "cathartic component" to the book, and told The New Daily he's "happy, in a more structured place" now.
Part of that is his latest crack at fatherhood, which he says he's "better at this time" with Sebastian, four months, than he was when his daughters Bridgette, Julia, Caroline and Odette were growing up.
Mr Joyce confirmed he still has contact with his daughters but rarely sees them, and admitted healing their fractured relationship will happen "over a long period of time".
Second time around, with his little boy, "it's one of those jobs you never thought you'd do again, like going back in a shearing shed and saying, 'Thank God I don't have to pick up one of those again', but you get back into the swing of it.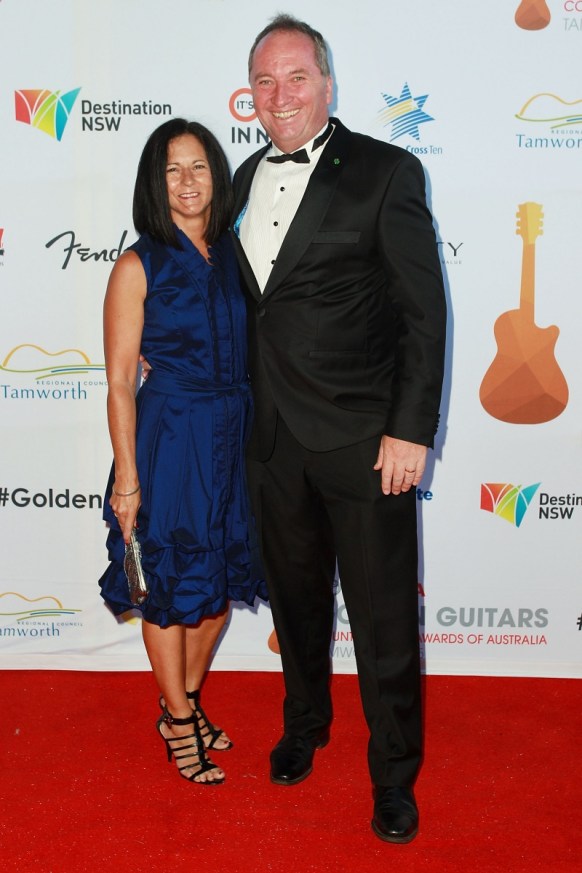 Natalie and Barnaby Joyce at the Golden Guitar Country Music Awards in Tamworth in January 2015. Photo: Getty
"You know the pressures your partner is under and I get a lot of joy out of coming home and cooking dinner," he said.
"It doesn't worry me to bloody clean the house and help."
So when Mr Joyce – who told The New Daily he is happiest by himself, "mustering sheep" or bush walking – tosses his signature hat on a chair and strides into the kitchen to whip up dinner, what does he cook?
First up, he asks Ms Campion what she wants: "If it's fish, it's fish. If it's pasta, it's pasta. There's heaps of vegetables. Vik is a really good cook as well, but it helps me switch off.
"I turn on the stove and stare out the window and my head goes to a different place. That's how I relax."
On the publicity trail, Mr Joyce said if he lived his life again, he would do it differently, but can't say what he would change: "Oh God, I don't know. That's like saying what your favourite movie is. Too many to choose from."
Despite apparently laying some of the blame for his family schism on the pressures of politics, Mr Joyce said he will continue in public life – "If I don't, who will?" – and wouldn't rule out a possible return to the Nationals' top job.
"I've been the leader in the past so it's ridiculous to say you don't want to be the leader," he said.
"But I'm not touting for the job. I will do whatever I'm asked to do."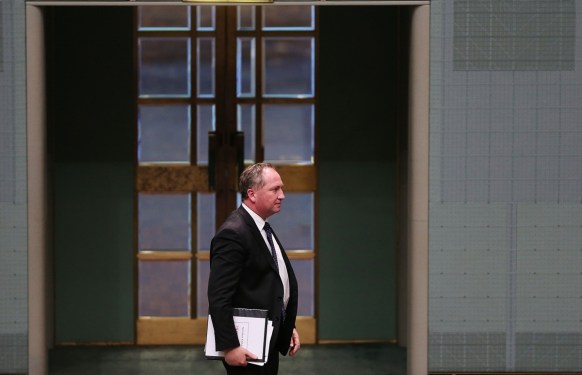 Solitary man: Mr Joyce at Parliament House in 2015. Photo: Getty
Before Mr Joyce's spontaneous combustion, the National Party seemed a safe harbour with no visible ructions. Is it still? "The party is united in purpose. There are different views but no party is without that," he said.
There are "egos", he said, but "What's unusual about that? It's not a monastery."
Asked if he will ever have a beer in a country pub again with Mr Turnbull, Mr Joyce says their relationship is purely professional.
"Are we close personal friends? I'm not going around to his place for dinner, circumstances of the past.
"But if he made a call, I would definitely take it."
Mr Joyce told The New Daily he covers off in Weatherboard & Iron what happened on the night in 2016 when former West Australian Rural Woman of the Year Catherine Marriott accused him of an unwanted interaction outside a Canberra hotel.
"I do mention that I stand by what I've said all the time," Mr Joyce, who does not mention Ms Marriott by name in the book, told The New Daily. 
"The way it was presented was spurious and defamatory, and that issue is being dealt with."
OK, but what actually happened?
"I'm not going to go through that."
Weatherboard & Iron: Politics, the bush and me, published by New Holland, is on sale now for $32.99.