Dimly lit, hard-to-watch Disney trailer is further proof Hollywood has embraced the dark side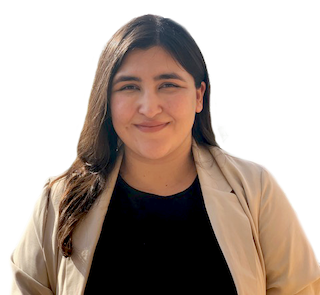 If you think it's becoming harder to see what's on your screen, it's not all in your head. Photo: TND/Disney/HBO
It's been a long day at work, but you're finally home.
You've had dinner, done the dishes and the little chores around the house you feel too guilty to put off any longer.
Comfy in your pyjamas, you snuggle into the couch, ready to turn off your brain and lose yourself in a new movie or the latest episode of whatever show's trending lately – only to spend the next hour or so tense and squinting, trying to figure out what exactly is happening on the too-dark screen.
It's a painful experience with which audiences around the globe have become all too familiar over the past few years. And if upcoming shows and movies are anything to go by, the issue isn't going away anytime soon.
This week, Disney dropped the trailer for Peter Pan & Wendy, the latest adaptation of J.M. Barrie's classic story.
Social media users were quick to bemoan the dim lighting, especially in the wake of an earlier trailer drop for the upcoming fellow Disney flick The Little Mermaid, which also appeared dark.
"Why??? Why is every single one of these live action Disney remakes so dark and muted??," one Twitter user complained.
Tweet from @strangeharbors
Another observed: "Everyone dunked on The Little Mermaid for looking dark but this is an even better example because we already have a recent-ish live-action Peter Pan that shows movies don't have to look like this just because they're not animated."
The tendency towards darker lighting and muted colouring, either on sets or introduced during the editing process, is not specific to Disney.
Perhaps most notably, HBO's House of The Dragon came under fire last year when many fans claimed parts of the seventh episode were so dark it was "unwatchable", a complaint previously levelled at a key battle scene in the final season of the show's predecessor, Game of Thrones.
What's going on?
While some social media users have theorised scenes are being made darker to cover up shonky CGI, industry experts say the current trend towards dimmer scenes comes down to two main factors: artistic choice, and the switch from film to digital shooting.
Darker lighting is often used to set the mood for scenes depicting serious, emotional or frightening subject matter.
This could be the case for the Harry Potter films, which grew noticeably darker as the franchise progressed and covered more emotional and violent events.
Dark lighting can also be used to guide the audiences' gaze to whatever filmmakers want them to focus on, and some filmmakers use a dimmer look to make scenes appear more realistic – if a scene is playing out in the dead of night with no lights turned on, how much would you see in real life?
While these artistic choices have always been at play, relatively recent technological advancements are giving filmmakers room to experiment with darker lighting more freely.
When shooting a project using film, directors aren't 100 per cent sure of what the outcome will look like because they often can't watch the scenes until the film has been processed, unlike digital shooting, which allows for a direct feed from the cameras to onset monitors.
This means before the large-scale adoption of digital cameras, many filmmakers erred on the side of caution when setting up the lighting of their shots, because if the scenes were too dark, nothing could really be done to fix the issue.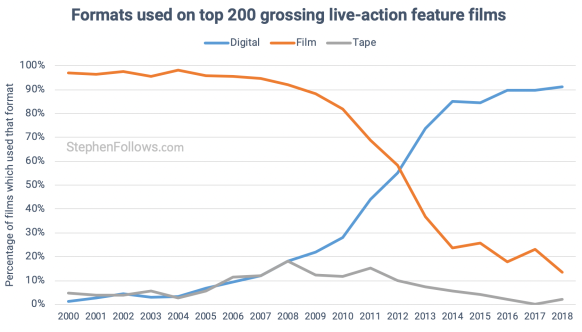 The shift from film to digital shooting gave filmmakers more freedom to experiment with lighting. Source: Stephen Follows
Now, filmmakers can instantly see what images look like on set, and easily edit scenes in post-production to make them as light or dark as they like without compromising quality too much.
What you can do
Aside from artistic choices and technological advances, something else that could be affecting your at-home viewing experience is the difference between your screen settings and the screens used to edit films and shows.
Editors are often putting the final touches on projects in completely dark editing rooms using high-quality screens.
The quality and factory settings of your local cinema, TV, phone or computer are unlikely to be the same.
There's not much you can do if you're watching something at the cinema or on a mobile device, but if you're using a TV, a fiddle with the settings could help you out:
Experiment with TV presets; rather than manually adjusting settings like brightness and contrast, many modern TVs offer various preset options which will adjust these settings for you. Try looking for a 'Movie Mode' or 'Cinema Mode'.
Manually adjust settings; brightness will open up darker elements on screen, while contrast determines how bright the brightest parts of the screen are. And the colour setting, too, can adjust the saturation to your liking. Be careful not to make your screen too bright or overly saturated.
Other than those quick fixes, unfortunately there's not much else you can do to counteract the darkness of a movie or show apart from closing your curtains, making sure all the lights in the room are turned off, and hoping the filmmakers have mercy on home audiences soon.
Topics:
Disney,
Film,
TV,
TV shows