YouTube's biggest philanthropist MrBeast under fire for latest stunt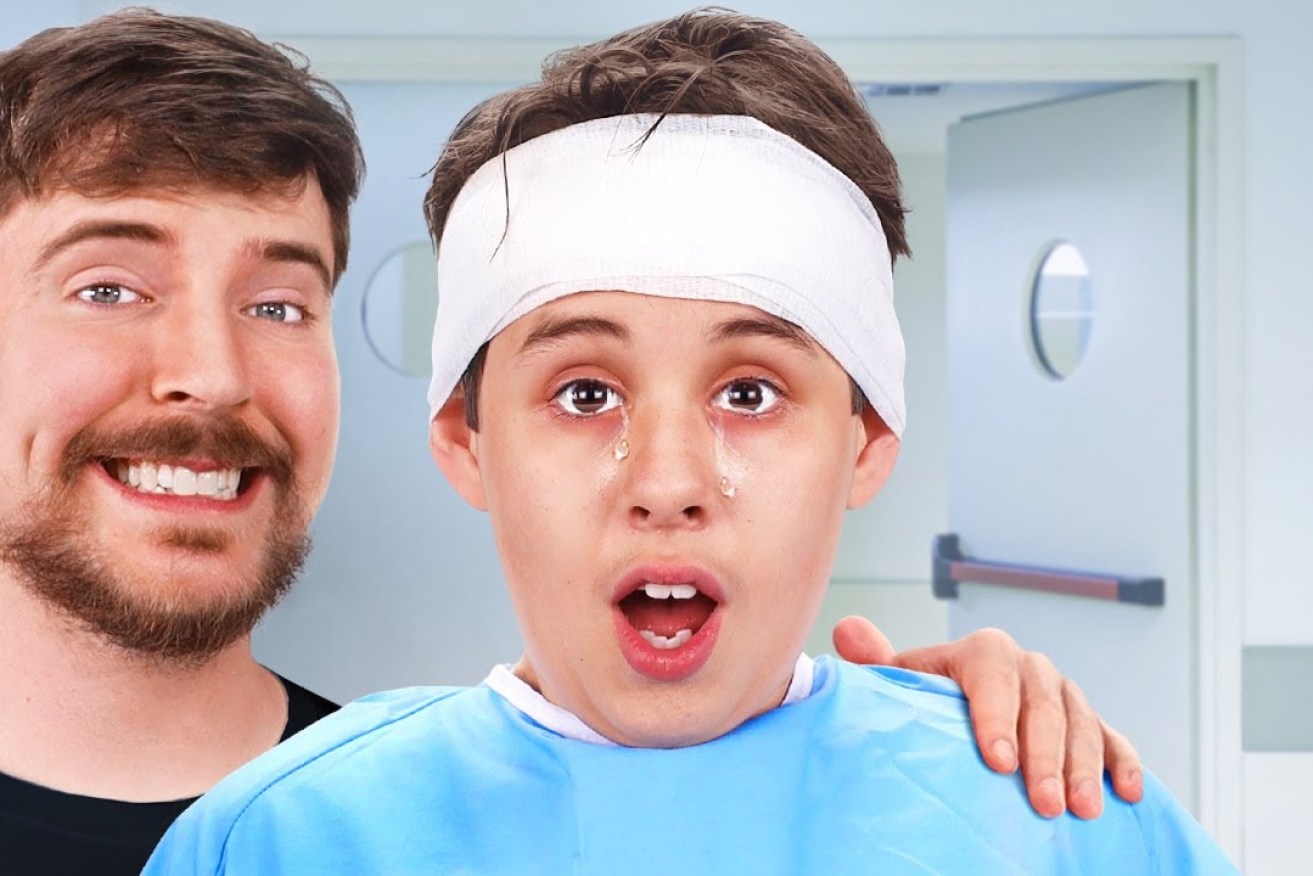 The controversial YouTube video thumbnail that includes MrBeast. Photo: YouTube/MrBeast
An ambitious project by YouTuber MrBeast has sparked debate about online philanthropy – with many arguing the creator exploited disadvantaged people for clout, views and money.
MrBeast, real name Jimmy Donaldson, has amassed 131 million subscribers in his 11 years on YouTube, meaning he has the most subscribers for an individual on the platform.
Last week, Donaldson posted a video to his channel, titled "1,000 Blind People See For The First Time", where he announced he had paid for 1000 surgeries to improve people's eyesight.
But the stunt has garnered plenty of backlash, with people saying Donaldson – who values his content business in the billions – had exploited disadvantaged people for his benefit.
A thousand surgeries
Donaldson partnered with non-profit organisation SEE International to provide sight-restoring surgery for 1000 people.
Specifically, Donaldson paid for cataract surgery, which can restore blurry vision by removing a person's clouded lens with a vacuum, and replacing it with an artificial lens.
According to the Fred Hollows Foundation, cataracts are the leading cause of blindness worldwide, affecting more than 700,000 Australians.
Cataract surgery has a high success rate, improving the vision of about 90 per cent of people who undergo the procedure.
It's also a quick and easy procedure, only taking about 10 minutes to complete.
However, while cataracts are relatively simple to address, many are unable to afford the procedure, with cataract surgery costing about $US3500 ($5000) per eye.
SEE International's chief medical officer Dr Jeffrey Levenson confirmed to Insider that Donaldson, aka MrBeast, paid for each of the 1000 surgeries.
Hundreds of the surgeries were completed in the United States, with some participants gifted thousands of dollars, and one person was even given a new Tesla by MrBeast.
Donaldson said hundreds more surgeries were also completed in Namibia, Mexico, Honduras, Indonesia, Brazil, Vietnam, Kenya and Jamaica, with his video showing clips of international patients.
As of the time of writing, the video has now been viewed more than 90 million times, and is on track to become one of his most popular videos.
Although some viewers have credited Donaldson for bringing awareness to cataract blindness, others took issue with him "milking" the participants' reactions for views.
The backlash
Many viewers took aim at Donaldson's dramatic thumbnail for the video.
A smiling Donaldson can be seen grabbing the shoulder of a young boy, wearing a thick bandage over his ears, with tears streaming down his face.
The boy in the thumbnail, however, never appears in the video, and is likely a stock image.
And, as seen in the video, the kind of bandage the boy is wearing is not used in this type of surgery.
People called out the bizarre choice of image online.
"MrBeast is such a weird specimen man. Dude just f–king cured 1000 blind people, making them see for the first time," one wrote. "And his thumbnails look like this."
Another said the thumbnail worked against his mission.
"No wonder people thought MrBeast was just doing it for clout (which I'm sure he's not), this is one of the worst thumbnails I've ever seen."
Another called it the "darkest s–t I've ever seen".
Tweet from @cooIboobs
'Poverty porn'
As for the content of the video, people accused him of creating "poverty porn".
The term "poverty porn" is generally defined as the exploitation and fetishisation of poverty in order to garner sympathy or support for a cause.
The majority of the video shows peoples' reactions as they see their children for the first time, break down in tears and thank Donaldson for his help.
Many argued that Donaldson was exploiting people in their most vulnerable moments for views and, in turn, revenue.
"MrBeast does a lot of good, which is good. But it is all in the service of enriching himself," one person tweeted.
"He cares about poor people and disabled people because they make him money. If he really just did it for the people he would give away all profits. But he doesn't."
Another said Donaldson's video crossed ethical boundaries – those which would never be crossed by health professionals.
"Doctors/nurses don't exploit their patient's dignity for profit. There's a BIG difference. Normal Drs [sic] do not record your private healthcare sessions to be streamed for millions to see. They have to give up their privacy just to get some treatment."
Others said the negative reactions to the video were unwarranted.
"The dunking on @MrBeast for paying for sight restoration surgery for 1,000 people is insane," said another fan.
"'Oh if he REALLY wanted to do a good thing he wouldn't have put it all over YouTube'. You realise he can afford to do this stuff *because* he puts it on YouTube, right?"
Others pointed out that Donaldson monetising the content would generate more profit which could be used to help more people.
"It absolutely is for views. So he can make more money and help another 1000 people. You need money to be a philanthropist," one argued.
Tweet from @JoshEakle
'MrBeast bad'
Donaldson addressed the backlash on Twitter.
Tweet from @MrBeast
In another tweet, MrBeast addressed America's healthcare system.
"I don't understand why curable blindness is a thing. Why don't governments step in and help?" he wrote.
"Even if you're thinking purely from a financial standpoint it's hard to see how they don't roi (Return on Investment) on taxes from people being able to work again."
And in another tweet, Donaldson signalled his ambitions may extend further than YouTube creations.
Asking his 18.3 million Twitter followers whether they would vote for him if he ran for president, 70.1 per cent of the two million voters said 'yes'.
YouTube's biggest philanthropist
This is not Donaldson's first, large-scale stunt.
The creator has become well known for his elaborate YouTube videos. Over the past 12 months, he has recreated parts of Squid Game, Willy Wonka's Chocolate Factory, and spent 50 hours buried alive.
Many of his projects have had a philanthropic angle.
In 2020, he raised $US20 million for his #TeamTrees project, with which he planted 20 million trees.
And in 2021, he launched another project dedicated to cleaning up the world's oceans.
Dubbed #TeamSeas, Donaldson said for every dollar raised, one pound (453 grams) of trash would be removed from rivers, beaches or oceans.
In almost every video he makes, Donaldson is giving away something for free – whether it is cars or cold, hard cash.
He often challenges his friends and complete strangers to participate in extreme challenges to win the prizes.
In one video, the last person to leave an enclosed circle would win $US500,000.
In another, the last person to take their hand off a Lamborghini would get to take the car keys home with them.
Donaldson began uploading back in 2012, but his channel only exploded in popularity in recent years.
Donaldson has said in previous years that he spent years studying the YouTube algorithm and watching other creators' content, and figured out how to optimise his videos for maximum views.
In his decade on the platform, Donaldson has garnered a staggering 22.2 billion views – and counting.
Topics:
MrBeast,
Social Media,
Youtube