Triple J Hottest 100: Computer geek predicts the 2016 countdown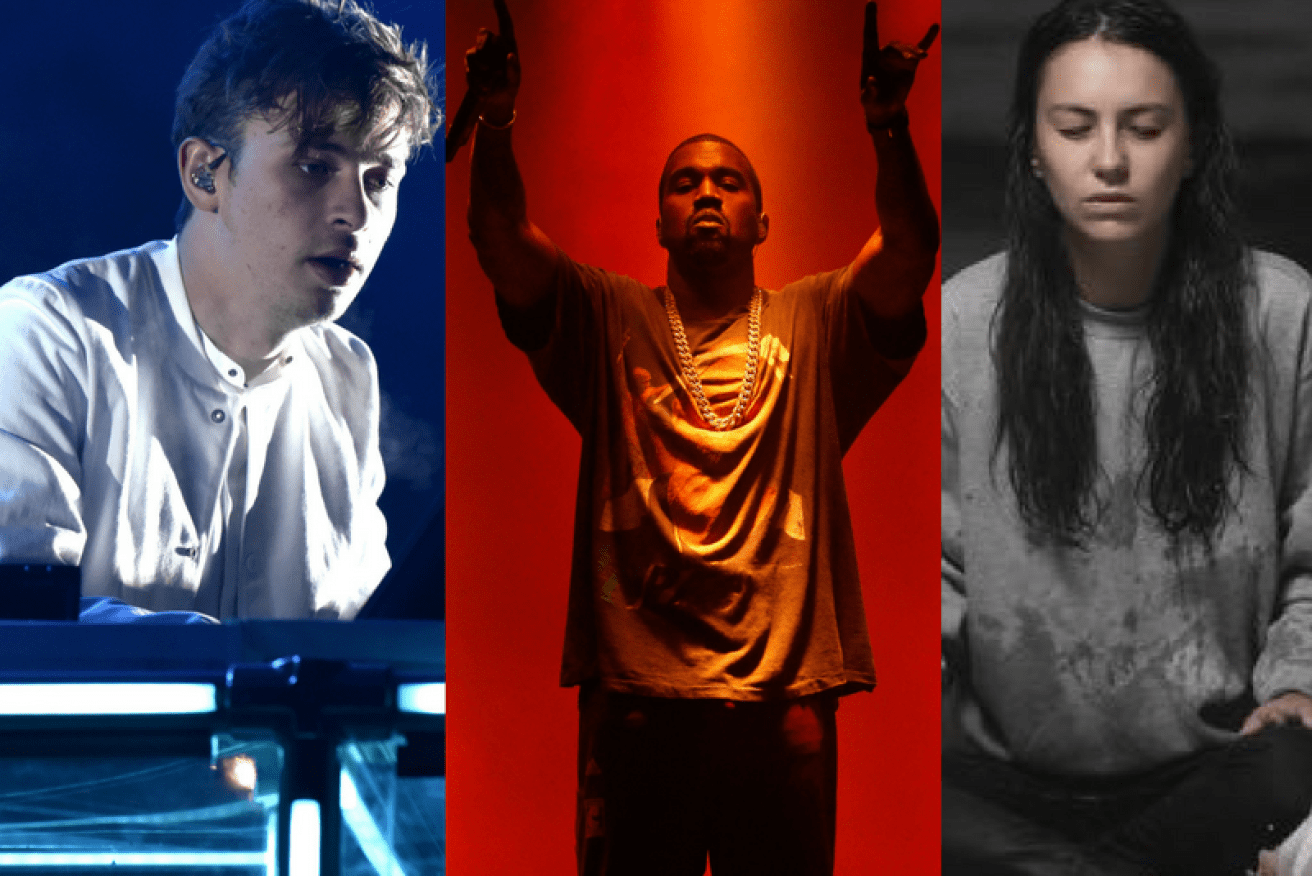 Flume, Kanye West and Amy Shark are predicted to feature heavily in the 2016 Hottest 100. Photo: Getty/Twitter
A computer science graduate has created what he claims is the "internet's most accurate prediction" of Triple J's 2016 Hottest 100 countdown, with Australian artists and disco covers featuring high on the list.
Nick Whyte has collected data from Instagram to come up with his Hottest 100 countdown prediction site.
Mr Whyte, who graduated from the University of New South Wales, designed a program which scours Instagram for those who post images of their top 10 votes for the 2016 Hottest 100.
Using this data he has created a predictor countdown which will keep updating until voting closes on January 23.
Mr Whyte used the same method for the 2015 Hottest 100 countdown and claimed he predicted the top three in order, and the remainder of the top 10 (but not in order).
"I think I will get the top three correct," Mr Whyte told The New Daily. "I'm not too confident in Amy Shark getting No.1 [her song Adore is currently leading Mr Whyte's rolling predictor].
"I was confident about The Rubens [Hoops] being No.1 last year.
"I'm not so confident of No.1 this year because it is very close, last year Hoops was ahead of King Kunta [by Kendrick Lamar] by a lot more votes."
Adore, by Amy Shark, is currently leading Flume's Never Be Like You by just 20 votes on the predictor countdown.
Mr Whyte said he'd received a lot of attention to his website and mostly positive feedback, although some said his predictor was "ruining the Hottest 100" countdown's surprise aspect.
As of Sunday, the predictor had counted almost 39,000 votes.
We've had a look at Mr Whyte's fluid countdown to see which artists are in the running to poll well in this year's Hottest 100.
(Note: projected figures were current at time of publication, projected countdown will change as more votes are cast/collated)
The top three
1. Adore – Amy Shark
Shark's slow-pop anthem took Australia by storm in 2016. Incredible when considering the Gold Coast songstresses' tune was discovered on Triple J Unearthed.
2. Never Be Like You – Flume (feat. Kai)
Flume's song could very well be No.1 once all votes are counted. He is undoubtedly the most powerful force in Australian pop music right now.
3. Jungle – Tash Sultana
Another Triple J Unearthed find, the Melbourne singer-songwriter's unique and incredible voice has seen her amass plenty of love for this song.
But don't count out …
Believe (Triple J Like a Version) – DMA's
The Sydney Brit rock group have a very large and dedicated following in Australia and in the United Kingdom. This stripped down cover of Cher's 1998 dance-floor classic set social media alight in late 2016 and could very well be top three.
Viceroy – Violent Soho
Another Australian rock band with a cult following, this song is a trademark anthem from the Mansfield group.
Redbone – Childish Gambino
The multi-talented Childish Gambino (real name Donald Glover) made massive changes to his sound on his 2016 LP Awaken, My Love!. This lead single is a ripper, and it set the tone for an album that has possibly increased his popularity.
The artists with the most predictions
Violent Soho – 5 songs (How To Taste, So Sentimental, No Shade, Blanket, Viceroy)
Flume – 4 songs (Lose It, Smoke & Retribution, Say It, Never Be Like You)
Sticky Fingers – 3 songs (Outcast At Last, Our Town, Sad Songs)
Camp Cope – 3 songs (Jet Fuel Can't Melt Steel Beams, Done, Lost: One Season)
Amity Affliction – 3 songs (All F***** Up, This Could Be Heartbreak, I Bring The Weather With Me)
International stars
It looks like it will be a pretty lean year for big-name international acts.
Interestingly, Beyonce has no songs on Mr Whyte's projection. Beyonce had songs from her hit album Lemonade played on Triple J in 2016, but it seems fans have not gone to vote for her in the countdown.
International stars on Mr Whyte's predictor include:
Kanye West – Famous (No.94), Ultralight Beam (No.30)
The Weeknd – Starboy (No.16)
Blink 182 – Bored To Death (No.36)
Frank Ocean – Solo (No.55)
Drake – One Dance (No.74)
Bon Iver – 33 "God" (No.100)